Canadian Hockey Star Jordan Nolan (Ojibwe) Inspires New Nike N7 Collection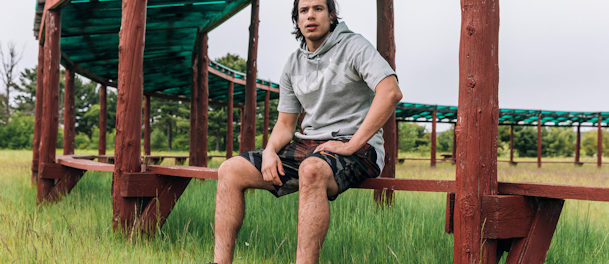 Born and raised in Garden River First Nations, right on Lake Superior, professional hockey player Jordan Nolan is a member of the Ojibwe tribe. Within the small community, the thunderbird is omnipresent, and is symbolically painted on buildings as "a protector for our people," says Nolan. For him, the thunderbird not only inspires through its sheer strength, but also influences his style of play.
"The thunderbird's power inspires me. It also forms beautiful artwork," says Nolan. "And much like the thunderbird, I think of myself as a protector on the ice and take pride in my teammates."
Nolan and the inspired graphic drives the aesthetic of Nike's latest N7 collection, which launches June 21 to align with and honor Canada's National Aboriginal Day. Designed for men and women, the collection comprises footwear and apparel featuring a pattern formed by abstracting the thunderbird and a distinct color scheme drawn from an exploded color bursts of red and yellow — referencing long hours of training and sport in the summertime. These elements are placed throughout the collection with an asymmetry representative of the "balance, not perfection" ethos present in N7 communities.
The force of the abstracted thunderbird is most evident in Nolan's favorite piece of the collection, the Nike Air Pivot N7 hoodie. The graphic also decorates the Nike Air Pivot N7 jersey and short, as well as a droptail T-shirt. In women's apparel, the graphic is applied to the Nike Signal N7 tank, Nike Modern N7 crew and Nike Holdout N7 tight.
The thunderbird's power inspires me. – Jordan Nolan
Footwear for men includes the Nike Kyrie 3 N7, Nike Air Flight Huarache Ultra N7 and Nike Sock Dart N7. The latter exhibits an engineered thunderbird pattern — an N7 first — while the others are punctuated by bright pops of yellow and red to depict the energy of summertime outdoor basketball. For women, a Nike Sock Dart N7 highlights the collection with the season's hallmark yellow color burst.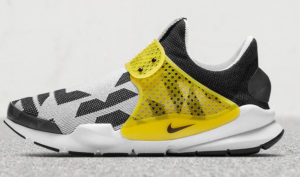 As with each N7 collection since establishment in 2009, the summer 2017 assortment benefits the N7 Fund and Nike's long-time commitment and mission to inspire and enable Native American and Aboriginal youth in North America to participate in sport and physical activity.
"N7 is about encouraging a positive, healthy lifestyle through sports and being physically active. If you're physically active, mentally active and spiritually active, it's only going open doors for you and make you a more positive and open human being," says Nolan.
The summer '17 N7 collection launches June 21 on Nike+, nike.com and at select retailers.
In Canada, the N7 Fund has awarded grants to 87 organizations for a total of $932,000 USD, impacting 111,000 Aboriginal kids. All organizations are committed to inspiring Aboriginal youth in Canada to embrace physically active lifestyles through sport and play, including the Indigenous Sport, Physical Activity & Recreation Council, Urban Native Youth Association (UNYA) and Motivate Canada.
Indigenous Sport, Physical Activity & Recreation Council is committed to improving the health outcomes of Indigenous people across British Columbia by supporting and encouraging physically active communities and expanding access to sport and recreation opportunities.

Founded in 1988, UNYA delivers 20 programs to more than 6,500 urban Indigenous youth in Vancouver each year. Together with 175-plus volunteers, 100 staff and more than 300 community partners, UNYA is training the leaders of tomorrow by helping Vancouver's Indigenous youth explore their personal goals and develop their leadership skills in a fun, safe and healthy environment. UNYA has received N7 Fund grants for the last two years.

The GEN7 program of Motivate Canada recruits Aboriginal youth role models, called GEN7 Messengers, to teach Aboriginal youth how to lead a healthy active lifestyle, while contributing to the betterment of their communities.