Bradley Nash (Navajo) Leads NMSU Aggies in Sweep Rhode Island in New Hampshire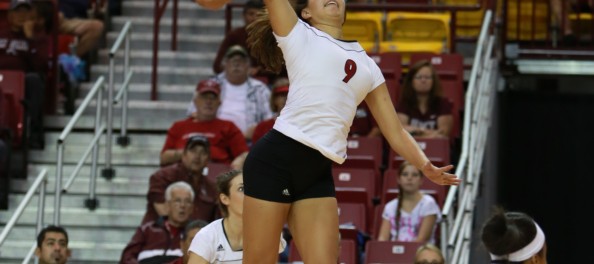 DURHAM, N.H. – The New Mexico State volleyball team began play at the Holly Young Invitational on Friday afternoon by defeating the Rhode Island Rams in straight sets, 25-16, 25-21, 25-16, during the two teams' first-ever meeting.
Junior outside hitter Bradley Nash(Navajo) led the NM State offensive attack with eight kills and a .412 hitting percentage.  Fellow junior Nathalie Castellanos was right behind with seven kills, tying a personal season high.
The Aggies gave the Rams a taste of their own medicine as Rhode Island had swept seven of its first 10 opponents this season.  NM State improves its record to 4-5 overall and 2-1 in neutral courts while handing the Rams their second loss of the season (9-2).
NM State outhit Rhode Island .240 to .109 and had a season-high 10 service aces on the day.  Freshman Jordan Abalos had four of those aces, a personal high and team high for the season, while junior setter Taylor Livoti added three more aces.
"We were pretty good defensively and served it well," Aggie head coach Mike Jordan said. "Anytime you get 10 aces in three sets you have to feel good about the effort. We beat a good team that was 9-1 coming in."
NM State continues play at the Holly Young Invitational on Saturday, Sept. 20, with two matches.  The Aggies will meet Brown University at 8 a.m. (MDT) before facing host New Hampshire to conclude the tournament at 5 p.m. (MDT).  Both matches will have a live webcast and live stats available.  Log on to NMStateSports.com for webcast and live stats links.