Whitney Whitehorn (Osage Tribe) Pitches Complete Game for Oklahoma State but Cowgirls Fall to No. 12 Arizona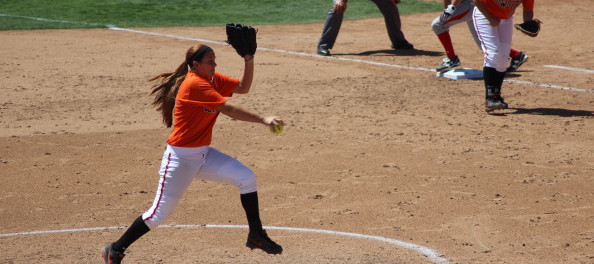 Feb. 7, 2015
TUSCON, Ariz. – A complete game from sophomore pitcher Whitney Whitehorn (Osage Tribe) wasn't enough for the Oklahoma State softball team on Saturday, as the Cowgirls were defeated by No. 12 Arizona, 5-0, at Hillenbrand Memorial Stadium in Tucson, Ariz.
"I thought we responded well after last night's game, especially on the defensive side," head coach Rich Wieligman said. "Our defense kept us in the game for a while, but we've got to come out tomorrow and produce some hits."
After starting four freshmen yesterday, three Cowgirl youngsters earned starts on Saturday, including Maddi Holcomb (centerfield), Vanessa Shippy (second base) and Mallory Collins (left field).
In the top of the first, the Cowgirls put early pressure on the Wildcats, as Maddi Holcomb legged out an infield single on a slow grounder to the pitcher. After taking the early lead last night on Mallory Collins' solo homer, OSU again put itself in position to score, but Tiffany Mikkelson and Danielle Riddle followed Holcomb's base hit with a strikeout and a lineout, respectively.
This time around, the Wildcats struck first, taking an early advantage in the bottom of the first inning. After Whitehorn allowed a leadoff walk, Chelsea Goodacre dropped an RBI single into shallow center to give Arizona a 1-0 advantage.
Oklahoma State threatened again in the second, as Mallory Collins led off with the Cowgirls' second infield single of the afternoon. Darcy Taylor, making her first appearance in an OSU uniform, advanced Collins to second on a sacrifice bunt, but Michaela Patton and Dre McKee recorded consecutive outs to end the threat.
The Arizona offensive attack returned in the fourth, beginning with a Mauga single up the middle. The following at-bat, Mo Mercado lined a sharp grounder up the middle that squeaked just past Shippy's outstretched glove, eventually going all the way to the wall and resulting in an RBI triple. Lauren Young then recorded a sacrifice fly, putting the Wildcats up, 3-0.
In the sixth, Shianne Hughes led off by drawing a walk, but back-to-back groundouts from Shippy and Holcomb kept the Cowgirls at bay.
In the circle, Whitney Whitehorn lasted the full six innings in her first start of the season. On the day, the sophomore allowed four earned runs on nine hits, in addition to recording a strikeout.