Washington State's Taylor Mims (Crow Tribe) has Career-High 24 Kills as Cougar Volleyball Upsets No. 25 Colorado with 3-1 Win in Pullman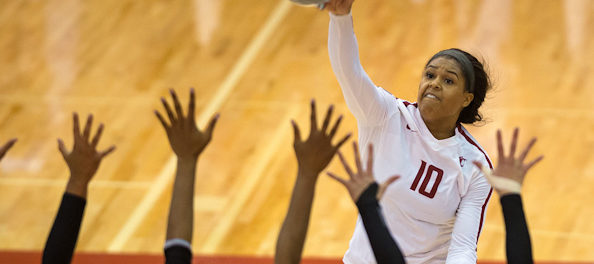 PULLMAN, Wash. — It was lucky number 13 for the Washington State volleyball team (13-4 overall, 2-3 in Pac-12) as the Cougars, playing without three-year starter McKenna Woodford, claimed a 25-23, 25-19, 22-25, 30-28 win over No. 25 Colorado (12-4, 2-3) Friday night in Bohler Gym.
Junior outside hitter Taylor Mims (Crow tribe) led the Cougars with a career-high 24 kills and had five digs and two blocks. Senior opposite Casey Schoenlein, shifting over to take the injured Woodford's place, had 13 kills, a pair of blocks and served the match-winning ace. Freshman Penny Tusa had three kills, 29 assists, two block and an ace and Ashley Brown added another 20 assists. Junior Ella Lajos had nine kills, hit a team-high .353 and had three blocks. Redshirt sophomore Jocelyn Urias led the match with seven blocks while adding five kills. Sophomore Alexis Dirige led the match with 23 digs and served a pair of aces.
Junior outside hitter Taylor Mims said, "Playing without McKenna was a big hole to fill, for sure. Missing a 6-4 girl (who is) able to play outside, passing well, blocking and defense, that's really hard. (Despite) having people thrown into new positions, I think we faced adversity and came out with the win."
MARK YOUR CALENDAR…
Washington State (13-4 overall, 2-3 in Pac-12) takes on No. 15 Utah (13-3, 4-1) upset winner in five sets at No. 9 Washington Friday night, Sunday, Oct. 8 at 11 a.m. in Bohler Gym