UFC champ Johny Hendricks (Otoe Tribe) expects early 2015 title defense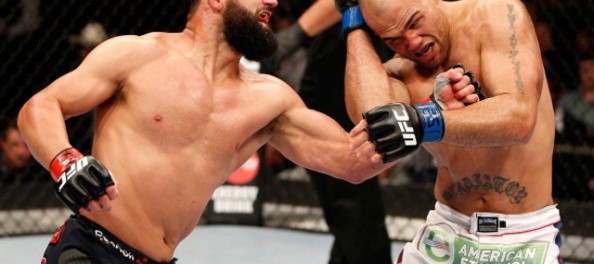 Although UFC welterweight champion Johny Hendricks (Otoe-Missouria Tribe) is ready to defend his title, the promotion's end-of-year pay-per-view schedule is pushing back his expected rematch with No. 1 contender Robbie Lawler.
"I talked to the UFC and told them we're ready whenever they can get it booked," Hendricks' manager, Ted Ehrhardt, told USA TODAY Sports.
The 31-year-old champ is training "full blast" six months after fighting Lawler with a torn bicep, Ehrhardt said. But Hendricks probably won't fight until February, he added, because the UFC's upcoming pay-per-view cards already have headliners.
At UFC 171 in March, Hendricks (16-2 MMA, 11-2 UFC) outpointed Lawler (24-10 MMA, 9-4 UFC) for the vacant belt and then was forced to undergo surgery to repair the damage from the fight.
Soon, the industry leader starts promoting a Nov. 15 heavyweight title fight between champion Cain Velasquez and Fabricio Werdum in Mexico City, and a Dec. 6 headliner between middleweight champ Chris Weidman and Vitor Belfort in Las Vegas. That event comes one month before a highly anticipated grudge match between light heavyweight champ Jon Jones and Daniel Cormier.
Then in late January, a blockbuster featuring ex-champ Anderson Silva and Nick Diaz is expected to do big business. Ehrhardt said the event, UFC 182, would be attractive to Hendricks as a co-headliner, but said it was up to the UFC.
Lawler's striking coach, Matt Pena, said his fighter is ready to go and added "it's just a matter of when the boss tells you when you come to work."
Pena said Lawler is hungry for a second opportunity to win the title after pushing Hendricks to the brink in their first meeting. Lawler went on to defeat Jake Ellenberger and Matt Brown for a rematch.
"At first, we heard January, but now I've heard February," Pena said. "We're not trying to get caught up in who's not ready, whether it's Johny or the UFC. He's going to be ready to go Jan. 1. If it's pushed back to February, so be it.
"I'm happy it won't be in Johny's backyard again (in Dallas). Apart from that, I have no preference."
Ehrhardt said Hendricks is taking added steps to make sure he comes in on weight and is in the "low 200s," an improvement from the 50 pounds he's had to cut for previous bouts. The champ struggled to make the 170-pound limit in March, needing a second attempt in which he looked drawn out.
"When he fought (Georges St-Pierre), he was 220," Ehrhardt said. "When he's off-season, he's really off-season."
Even four to five months from the rematch, the off-season appears to have ended for Hendricks. Now, it's a question of when the UFC puts him back to work.
(This story appears in  USA TODAY.)