Todd County 7th grader Kelsie Herman was 5th against a loaded field at the Rapid City Invite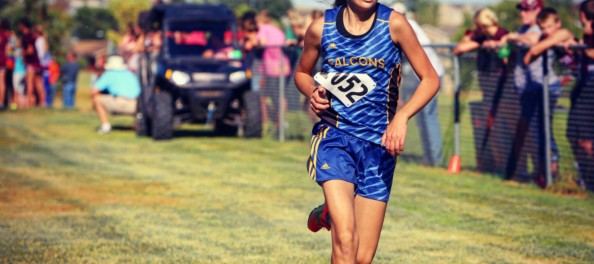 By Rich Winter
The Rapid City Invitational is one of those defining meets of the season. Teams from Nebraska, Wyoming, Colorado, South Dakota and North Dakota invade Rapid City for a gigantic meet to see who the best of the best are.
Those in attendance were not disappointed as the boy's and girl's of the upper midwest through down in an epic show of strength.
Girls varsity:
The girl's varsity race had a familiar tone to it as runners from Rapid City Stevens were among the lead group through the first half of the race.
Former Lead/Deadwood runner Mattie Shirley-Fairbai, who runs for Bismarck, ND now,pulled away late but had some company to the line as she outlasted Elizibeth Yoder of Dickinson, ND – 15:05 to 15:10
The Rapid City Stevens runners were right behind.
3rd – Emily Person – RCS – 15:48
4th – Jamie Schwiess – RCS – 15:53
And right behind them came Todd County 7th grader Kelsie Herman
5th – Herman 15:59
Other Todd County finishers:
32nd – Amory Prue 17:44
40th – Karli Prue – 18:01
43rd – Oskate Win One Star 18:18
78th – Haylee Quick Bear – 19:57
Team title: Rapid City Stevens won with 57 to outdistance Bismarck who had 81. Todd County was 8th with 162
Varsity boys:
Like the girls race, the early favorites hung together for a good portion of the race before Laramie, Wyoming's Chris Henry put on a surge that no one could match. Henry is the first runner to defeat Strugis athlete Jacob Simmons this season. Simmons was second in the race.
1st – Henry – 16:40
2nd – Simmons – 16:57
3rd – Jackton Binnick – 16:58
Team race: A great team race as Rapid City Stevens beat Laramie Wyoming 35-36 to claim the crown. Todd County was 5th in the overall team standings:
Todd County results:
29th – Daniel Whirlwind Soldier – 19:17
32nd – Tobias Weddell – 19:27
41st – Donald Aquallo – 20:05
67th – Lee Sharpfish – 21:27
80th – Morris Kills In Sight 23:00