Tiara John (Navajo) has 18 Kills and 17 Digs for Elmira College in Win over SUNY Plattsburgh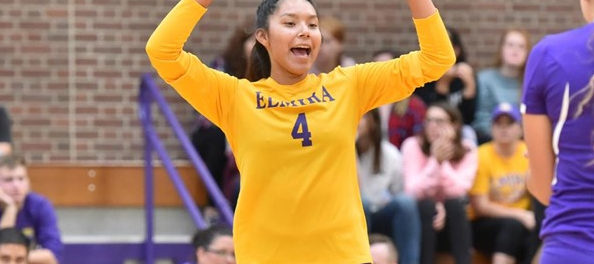 CANTON, N.Y. — The Elmira College women's volleyball team began the Canton Classic, hosted by SUNY Canton and St. Lawrence University, with wins over Cazenovia College [25-14, 25-6, 26-24] and Plattsburgh State [20-25, 27-25, 25-23, 25-23] on Friday evening in Canton, New York.
The second match of the day againts Plttsburgh State  was much more tightly contested, as it took the Soaring Eagles four sets to best Plattsburgh State. Elmira had to come back from a 1-0 deficit after the Cardinals took the first set 25-20. EC was up for the challenge, however, as it reeled off 27-25, 25-23 and 25-23 wins in the second, third and fourth sets, respectively, to take the match.
The offenses in the second contest were equally matched, as the Cardinals slightly outhit their feathered foes .157-to-.140. The Purple and Gold's defense was key in the match against Plattsburgh, as they tallied a season-best 106 digs in the winning effort.
Junior outside hitter Tiara John (Navajo)  stole the show against the Cardinals, as she recorded her second double-double of the year on career highs in both kills (18) and digs (17). The Kayenta, Arizona, native also posted a team-best .275 attack percentage. Schieder and Kaznowski joined John with their own double-double performances in the bout, as the former finished with a season-high 21 digs and 15 kills and the latter posted a season-high 48 assists and 16 digs. Smith also came close to recording a double-double, as she finished the tilt with 10 kills and six digs.