Tiana Dockery's 9 Kills Helps Kansas Dominate McNeese State, 3-0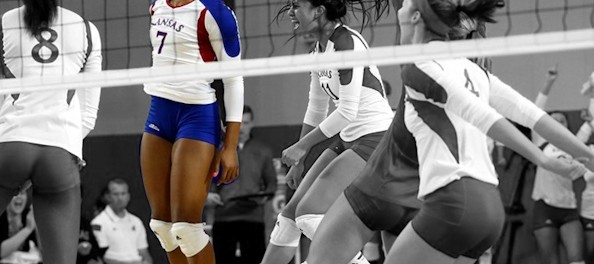 FAYETTEVILLE, Ark. – Playing a new position has yet to phase sophomore right-side hitter Kelsie Payne as she led the charge with 11 kills and five blocks in a dominating performance by the Jayhawks. Kansas rolled past McNeese State to start day two of the Arkansas Invitational inside Barnhill Arena, 25-9, 25-14, 25-10.
Kansas (2-0) never let up, pounding out a .427 attack percentage (42K-7E-82TA) while holding McNeese State (0-2) to negative numbers (-.071). The .427 efficiency was the best performance by the Jayhawks since a .451 mark against Baylor on Oct. 30, 2013. Payne was right in the middle of it. She is embracing her new role as her team-best kill output combined with just one error, six digs and she tied teammate Tayler Soucie for the match-high with five blocks.
"The first set, we really came out and pass and served well – but we were really dominant at the net," head coach Ray Bechard said. "This was a match where our team, who saw them play last night, could have overlooked them a little bit going into the Arkansas match tonight, but they did not. I thought they played at a high level."
Bechard was right. Along with Payne, senior outside hitter Tiana Dockery (Navajo) also had a solid outing with nine kills and a .467 hitting percentage. Soucie added five kills to her five blocks and junior middle blocker Janae Hall also tacked on five kills with four rejections. Sophomore setter Ainise Havili did the decision making, passing out 32 assists in combination with her four kills and two aces. Cassie Wait manned the back row and led the floor with 12 digs, ensuring no one across the net tallied double-digit kills.
The Jayhawks dropped the first point to the Cowgirls, but that concluded their troubles in the first set as they answered with five-straight points. Taking complete command, KU committed just two errors in the set, striking at a .556 hitting efficiency while smothering McNeese State to an even .000 with four errors against four kills. Dockery wasted no time adding to her stats from Friday, rattling off six kills without an error through the midway point of the first frame. She pushed her team to an 18-7 lead. A pair of kills from Hall added to the already lopsided advantage, running the Jayhawks to a 25-9 win.
Set two started much the same way, with KU taking point after point to take a 4-0 lead. Temporarily, the efficiency that powered the Jayhawks went cold. Attack errors allowed the Cowgirls to quickly cover the gap and tie the score, 8-8. After she cruised through set one, McNeese State dialed in on Dockery and didn't allow her a kill until halfway through the set when she connected on back-to-back slams for a 17-12 KU lead.
The window was more than enough. Two more kills from Payne put Kansas at the 20-point plateau – and then came Claire Carpenter. The sophomore serving specialist broke loose for three aces in the final five points to shut the door on a 25-14 victory, giving KU the 2-0 lead at the break.
McNeese wanted to extend the match and came within a point, 7-6, in the third set, but Kansas took off. Led by Payne and sophomore outside hitter Madison Rigdon, the Jayhawks scored five-straight points to separate themselves. Kills from Soucie and Havili and a service ace by senior Anna Church put the set out of hand in a hurry, 20-9. A KU service error got the Cowgirls to the 10-point mark, but Kansas closed the match on a 5-0 run. Driskill and Payne kills brought the Jayhawks to match point and Havili sealed it with an ace.