Tesha Buck (Mdewakanton Sioux) led Green Bay in the scoring column with 11 points in Record-Breaking Performance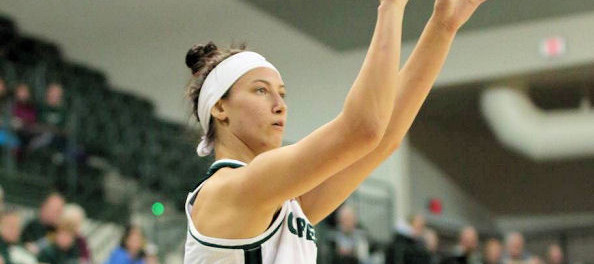 GREEN BAY, Wis. (GreenBayPhoenix.com) – The Green Bay Phoenix women's basketball team continued its winning ways on Saturday afternoon, as it held the UIC Flames to just 22 points on 8-of-41 shooting to pick up its 12thconsecutive victory, 64-22, establishing a new Kress Center record for the fewest points allowed in a game. The previous record had been 25 points set on Feb. 5, 2011, against Youngstown State.
Guard Tesha Buck (Mdewakanton Sioux) led Green Bay in the scoring column with 11 points on the strength of three 3-point field goals, while forward Sam Terry (10 points) and guards Kaili Lukan (9 points) and Laken James (9 points) were all major contributors. Forward Mehryn Kraker filled the stat sheet with five points, four rebounds, six assists, four steals and a block in 29 minutes.
The Phoenix, who led from start to finish, forced a season-high-tying 26 turnovers, including 18 steals in the contest, limiting UIC to single digits in all four quarters and 0-of-10 from beyond the arc. The victory marks Green Bay's 16th consecutive win at home dating back to Feb. 4 last season.
Green Bay led by five points after one, 11-6, before proceeding to outscore the Flames 53-16 over the final three quarters to collect its fifth straight win in Horizon League play and push its overall record to 15-2. Kevin Borseth's bench outscored UIC's 34-5 in the game, and its 17 offensive rebounds led to 19 second-chance points.
The Phoenix will take five days off before it hits the road next week with scheduled visits to Northern Kentucky and Wright State on Thursday and Saturday, respectively.