Summer Leitka (Seminole) Moves to (8-0) for the Dovers at the USAO/MACU Festival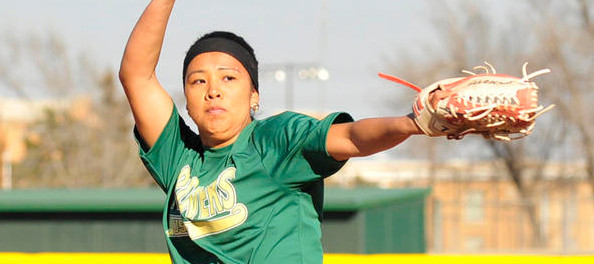 CHICKASHA – Senior catcher Kayla Adams drove in four runs on Friday afternoon at the USAO/MACU Festival to set a new school record for career RBIs and to help lead the University of Science and Arts of Oklahoma (9-1) to two victories.
Adams has 102 RBIs in her time at USAO, which breaks a record set by Stephanie Hey in 2006. Hey had 100 RBI.
In the first game, the Drovers grabbed the 9-1 win over (RV) MidAmerica Nazarene in six innings after a six-run sixth.
The Drovers took the 1-0 lead in the bottom of the fourth, added another two in the fifth before giving up a run and securing the win with six more runs.
Tate Landmark, the designated hitter, went 2-for-4, scoring two runs and batting two more in. Dani Warren, shortstop, scored another two runs for USAO while Courtney Capps went 1-for-3 and had two RBIs in the first game.
Kaylin Taylor, Shania Beck, Ciara Kuestersteffen, Hannah Neill and Adams each scored a run in the game.
Summer Leitka (8-0) pitched all six innings, throwing 10 strikeouts and give up just two hits.
After a two-hour break, the Drovers took on (19) William Woods University, a team out of Missouri that joined the tournament days before because previously scheduled early-season games were affected by snow. USAO dominated the Owls 12-0, also in six innings.
The Drovers scored five runs in the first and sixth innings to book end the game while grabbing two more in the fifth inning. In all, USAO had 16 hits.
Adams went 3-for-4 against the Owls, while scoring twice and batting three runners in. Beck, USAO's third baseman, also went 3-for-4. She had one RBI and scored twice while another run came in from pinch runner in for her.
Warren had a perfect 3-for-3 at the plate in the game and scored twice while lead-off hitter, Taylor, also had two runs. Landmark, Capps, Neill and Shannon Boe also scored.
Leitka (Seminole Nation of Oklahoma) pitched another complete game and threw her second shutout of the season. She struck out seven batters.
The USAO/MACU Festival takes place at the Chickasha Sports Complex. The Drovers played will play two more games on Saturday, first another game against MNU at noon, followed by a game against Friends University at 4 p.m. – See more at: http://usao.edu/sports/softball/news/adams-sets-career-record-drovers-topple-tough-teams#sthash.yvyfPlnq.dpuf