Six Nations Rivermen sit in first place for the playoff race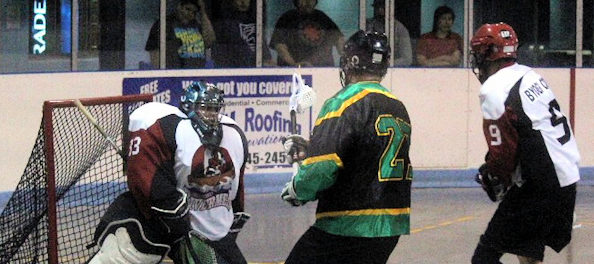 By Chris Vale
Right now the Six Nations Rivermen are sitting in first place for the OLA Senior B regular season standings with an 11-1 record. They are also looking to be the favorite to win and advance to the President Cup championships out in Alberta this August. They have beat everybody in the six team league saw far with the only loss of the season coming to Oakville 9-6 but had previously beat the Oakville Titans 9-8 with both games being played in Oakville. This past Saturday facing Oakville for the third time this season Six Nations came out firing scoring in the first 30 seconds and finished the game with a 20-6 victory.  Right now they have four games left in their regular season and look to close things off strong playing James Gang a team they have beat three times already and will take on Oakville one more time. The Rivermen last two games will take place vs. Brooklin these teams have not played yet this season but Six Nations beat Brooklin in the 2015 OLA championship.
Of the Rivermen top players is long time great Roger Vyse. Roger has been a key piece to many championship teams during his career that includes a MVP performance for the Rivermen in last years Presidents cups. Right now Roger is leading his team in points with forty-nine (19G, 10A). Some other leading scores are Travis Bland thirty-five points and former NLL player Tom Montour who as a transition player has thirty-two. Forwards Wayne Hill also had 32 points while Stu Hill has 26 both players have been hard for teams to match up with defensively.  Also now on offense is Kiel Matisz who plays in the NLL for the Georgia Swarm and had three points in his Rivermen debut. Kiel is a great addition to the Rivermen offense.
Six Nations is not just a team with a big time offense but one of the strongest defenses in lacrosse. Tom Montour, Johnnie Rae, Marty Hill, Rod Squire, Mike Miller, and Stu Martin lead the team on the back end. Also Oakley Thomas and Timmy Johnson have been very impressive this season. In net newcomer Grant Crawley has been very good this year being his first with the team while Syracuse grad Warren Hill also has played good between the pipes this being his third summer with the team.
These last four games the Rivermen look to go into the playoffs with just that one loss on the year while the OLA league goes right into the semi finals while only two teams in the six-team league will not make the playoffs. Right now it looks like either James Gang or Oakville could be the Rivermens play off match up.