Six Nations Rivermen look to defend President Cup Title in 2016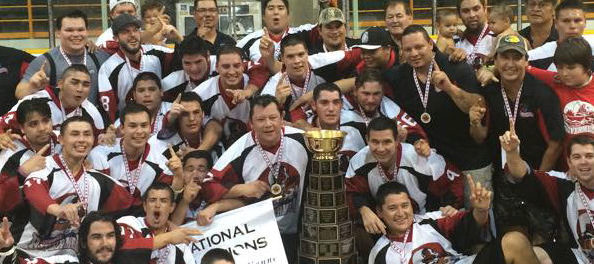 By Chris Vale
The Six Nations Rivermen are defending President Cup Champions and they are looking to make a run at another tittle this summer. The Rivermen came about in the summer of 2013 and had a strong first season going 14-8, which includes playoffs. During their second season they reached the President Cup finals where they lost to the Onondaga Redhawks. With nothing less of a championship on their minds in 2015 they took home the Presidents Cup when they beat the Capital Region Axemen and brought the cup back to Six Nations for the first time since the Ohsweken Wolves did back in 1996. The Rivermen back for their fourth season and once again look like the team to beat. Head coach Stew Montour who has been at the helm since the team's inception. Stew has not only won the President Cup as a head coach but has also won three Founders Cups at the Junior B circuit with the Six Nations Rebels. Stew also has championship titles coaching both the Ohsweken Demons and Aces. As a player with Herkimer College he holds a record for most goals scored in a championship game, which are nine. Other coaches are Jeff Powless former Herkimer and Bucknell alum and Neil Bomberry.
So far this season the Rivermen are 2-0 after taking down Ennismore James Gang 10-6. Six Nations was the first team to strike when Stu Hill scored the first goal of the game/season after being assisted by Roger Vyse and Marty Hill. The Rivermen had an 8-4 lead going into the third before getting the win. Roger Vyse led the way for the offense with (2G, 3A) while Wayne Hill had three points and Tommy Montour, Stu Martin, Stu Hill, Marty Hill, Jesse Johnson, Cory Bomberry and Rodd Squire all chipped in with two a piece. Newcomer Grant Crawley was in net and made some big time saves during his debut.
In game two the Rivermen went on a six one run in the second period and finished the game with an 11-8 win over Wallaceburg. Tommy Montour, Stu Hill and Travis Bland all led the way with four points while Roger Vyse and newcomer Jake Bomberry both had three. The Rivermen not only have guys who can score but are also strong on defense with players such as Tommy, Marty Hill and Stu Martin, Jake Crans, Danny Vyse and Brock Boyle back. They also have added Johnnie Rae from St. Catherines and Junior graduates Oakley Thomas, Marcus Elvin and Timmy Johnson and Ashton Jacobs. The Rivermen are ready to make their presents felt as they look to win another Ontario tittle and head out to Alberta come end of August to win the Presidents Cup for the second straight year.