Shauna Long and Alyssa Looks Twice Participate in Pro Basketball Combine over the weekend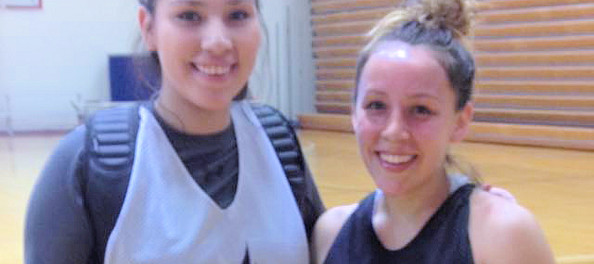 By Dale Pine, Jr.
On April 5, 2015, Shauna Long (Standing Rock Sioux) and Alyssa Looks Twice(Oglala-Lakota) laced up their shoes and took part in the 2015 Merit Pro Combine. Head coaches from the WNBA's Atlanta Dream, Los Angeles Sparks, Chicago Sky, Seattle Storm, Tulsa Shock, and San Antonio Stars looked on, as well as representatives from other teams.
The list of attendees included players from the University of Florida, Ole Miss, LSU, East Carolina, and Rutgers to name a few. Long played at Lamar University in Beaumont, Texas and Alyssa played at Oglala Lakota College in Kyle, South Dakota.
Long and Looks Twice took part in warm-ups, drills, and scrimmages throughout the day. In Shauna's first game, she seemed nervous, but in the next she hit a three and they kept dropping after that. She hit 8 threes on the day and some nice drives to the basket with assists that wowed the crowd. "The event was a lot of fun. At first it was very nerve wracking because you know you are being watched and you want to make an impression. After I relaxed and got in the flow of things I had a great time," said Long. "College helped me in several ways; we learned plays and I was able to pick up on them quickly and adjust my style to the plays. I felt like having to learn several sets in college assisted in that aspect. Also to be able to use all that I learned in general (skills wise) and through experience helped me to actually compete against the good competition."
When asked about the support she receives she replied, "The never ending support from back home never ceases to amaze me. My people have no idea how much the amount of faith they have in me keeps me going and keeps me driven to continue to want to attain more goals and to shoot for the stars. It truly makes me smile when people make encouraging comments, post, phone calls, texts. It's amazing."
Alyssa gave a valiant effort while finishing the day with a three pointer and several rebounds. She got to the basket several times with her signature dribble-drive and her strong rebounding that earned her AIHEC MVP honors as a freshman. Looks Twice held her own and did good despite playing against some of the top seniors in the country. "I think she deserved to be there. She doesn't get intimidated. Tribal colleges are moving in an awesome direction that opens doors for students who want more," said her college coach Mary Tobacco.
When asked during the games how the competition was, Looks Twice responded with, "it's tough out there, but I'm hanging in there." She echoed the same sentiments she had the night before about taking part in the combine, "It means even more to be representing the Oglala Sioux Tribe in such a good way. I only hope that this sends a good message to the youth that these opportunities are possible. It is possible to grow up on the reservation, go to school on the reservation, and these opportunities are still possible to achieve."
The next step for both women will be to seek out their opportunities and options. If basketball doesn't work out, Shauna has an internship lined up in Oregon at Nike Headquarters. Alyssa is considering going into the nursing field. No matter where their path leads next, these young women gave it their all and put themselves in a position to succeed whether basketball is involved or not.