Rich Winter: Why the Schimmel Sisters are a Beacon of Hope to Native Youth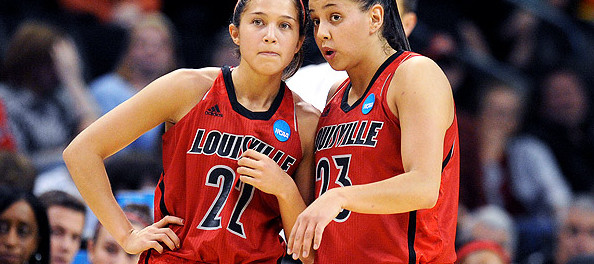 by Rich Winter
I drove to Pine Ridge South Dakota Tuesday for a playoff girls basketball game between St. Francis Indian School vs. Red Cloud high school. On my way to the game I passed through Batesland, which is about 25 miles from Pine Ridge. It was about 5:00 p.m. on a mild February day and as I passed through highway 18 I glanced over at the housing project and noticed about 30 kids on a slab of pavement with a couple of larger rims and some smaller ones.
It was cold, it was getting late and that little slab of concrete was heaven to some youngsters outside doing work.
Basketball reaches a fevered pitch in South Dakota about this time of year. The girls playoffs are in full swing tonight and the boys playoffs start Monday. It's interesting to me to see just how much basketball means to these small communities that don't have killer football teams but always put up a fight when it's hoops supremacy on the line.
It's also interesting to me to see how kids in these communities light up when the name Schimmel comes up.
The ovation Schimmel received when she attended Lakota Nation in December was deafening, and long and well deserved. Look at the smiles of the people with Schimmel in this photo.
Let me give a few thoughts on how I've seen the Schimmel sisters affect people here in South Dakota.
1. During the women's NCAA tournament last year as Louisville again, made a deep run you should have checked out the Facebook Pages surrounding the Schimmel's.  Everybody here watched Louisville in the playoffs, followed them on the internet and were crushed when they lost.
2. I know this young man here on the Rosebud that is all basketball. He loves it, he breathes it and he lives it. Haven't known him to be much of a girls basketball fan but I can tell you this, the young man sat glued to the tube during the WNBA draft to see where Shoni was going.
The Schimmell sisters have moved mountains. 
So many young people in South Dakota, and particularly at native schools, the dream of playing college basketball is real. People talk about it from an early age and they strive to make that goal a reality. Sadly, the collegiate basketball field for Native Americans is littered with guys that had real potential, but just couldn't quite make it, for whatever reason.
When the great ones in South Dakota are talked about, the list of Native players that went on to play Division 1 hoops is scant, almost non existent. It's hard to look up and find a role model when people that you identify with are nowhere to be found.
The Schimmel sisters have brought Native American hoops to the forefront of so many kids' imaginations. Seeing two Native American rez-ballers, balling out a prime-time, Division 1 program like Louisville gives Native basketball a face and some name recognition. I think the Schimmell sisters give other hope and perhaps, even a blue-print for finding hardwood success.
You mention the name Schimmel and everyone in the room here is listening, eyes up and alert.
Of note I think is the Schimmel sisters embracing their culture and heritage a bit. I know the Atlanta Dream held a Native American night last year with dancing and full regalia. The impact of some new faces being exposed to Native American culture can not be under-estimated.
Don't know if Jude Schimmel has a future in the WNBA. She might, sister seems to be doing just fine.
At the very least, so many native youth look up to these young ladies and perhaps the ultimate contribution of these ladies is they have opened some eyes and more importantly doors, for those who are to follow.