Rich Winter: Lady Braves Aiming for 2014 LNI Title – Cheyenne Eagle-Butte Preview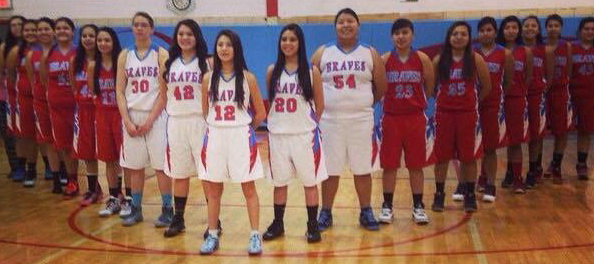 By Rich Winter
When the Lady Braves take to the court at McLaughlin on Tuesday, you can bet this group will be ready.
The 2014/2015 version of Lady Braves basketball is loaded with upper-classmen, (5 seniors, nine juniors) and several underclassmen that are ready to make an immediate impact.
After finishing 4th at LNI a year ago, and 12-10 overall, I'm guessing this CEB team is ready to get back to the dominant style of basketball that helped CEB to three straight Lakota Nation titles in a row just a few years back.
Roster:
Destiny Beautiful Bald Eagle – 5-foot-6 guard, senior – Great overall athlete that should really help the Lady Braves get out of the gate quickly this season.
Samantha Bowker – 5-foot-3 guard, senior  – You cannot underestimate senior leadership and how important it is from the guard slot.
Cassidy Hollow Horn – 5-foot-9 (center), senior – Her teammates absolutely love this girl. Great student on and off the court. Plays center, but will roam out to the 3-point line and make things difficult for those attempting to guard her.
Cassidy Hollow Horn and her parents during last year's Parents Night celebration at CEB.
Tatum Mendoza 5'6 F 12
Theola Schad 5'8 F 12
Dawnee Keckler 5'5 G 11 –  One of my new connections on Facebook that has helped get Panicbutton noticed up in CEB. I've been promising a preview on this team for about a week now and Dawnee gently reminded me that it was no biggie getting the first story on CEB done because chances are I would be writing a lot more….(I like that…quiet confidence that doesn't come across as cocky).
Dre'Mys Cook 6'2 C 11, Bailey Fast Horse 5'7 F 11, Snowy Fire Cloud 5'6 F 10, Justice Fire Cloud 5'7 F 9, Mary Garter 5'6 G 11. Spirit Grass 5'8 F 11, Tommy Hawk Eagle 5'9 C 11, Wambdi Johnson 5'10 C 10, K'Dyn Newbrough 5'6 G 11, Ivy Norris 5'8 F 10, Tahnee Shaving 5'11 C 11, Eunice Straight Head 5'9 C 11
Just by examining the roster on-line, three things are immediately apparent.
1. CEB might be the tallest team in the tournament. Cassidy Hollow Horn starts at center but Dre'Mys Cook at 6-foot-2 should give some shot blocking ability to this team. All told, CEB has six girls that are 5-foot-9 or better!
2. The CEB braves have a group of senior guards and that tells me this team will be battle tested, able to handle pressure and thrive under difficult circumstances.
3. I look up and down that roster and I see names of girls that I've seen before. Keckler, Fire Cloud, Newbrough, Norris, Shaving, Mendoza, Bowker. Basketball is kind of like a life-blood in some of our small town in South Dakota. If you've had a family member come before you, chances are you played some ball yourself while growing up.
LNI prospects: Well, the seedings are about the same as last year for the top four. If the seeds hole, CEB No. 3 would square off against Red Cloud No. 2, and I'm guessing CEB is going to want that game badly after losing to the Lady Crusaders a year ago.
Thanks for all your help CEB girls. Have a great season….