Rich Winter: I Still Believe in Tobias Weddell (Rosebud Sioux)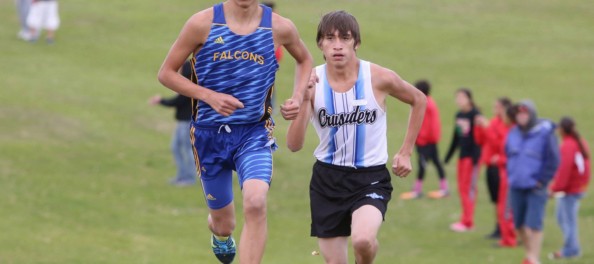 By Rich Winter
Well, the Todd County cross-country season is drawing to a close, sort of. Depends on how you look at it I guess but the only two meets left on the regular season schedule are the Region meet in Chamberlain and the state meet in Huron in a few weeks.
I'm pretty excited for our local runners as they gear up to go attach those big meets.
A revamped Todd County boys team vs. Miller at the Region meet next week…Can't wait.
Tobias Weddell vs. Cole Sargent, well, hmmm?
A few weeks back at the Chamberlain Invitational I was a little frazzled when I looked down the individual placings for Todd County and saw that Todd County senior, Tobias Weddell was in 15th place and about 90 seconds behind Miller's Cole Sargent, whom many consider the favorite to capture the Class A crown in Huron in a few weeks.
What is going on with that because I know Tobias is much better than that?
Next day, Weddell laid the wood to the Lyman Invitational and won the individual title as well as helping the Todd County boys to the team title.
The following week, Weddell didn't run so hot at the Rapid City Invitational and once again, my concerns flared over how he would fare at the big meets coming up.
The next day at the Platte Invitational, on little sleep and not much rest, Weddell crushed the field.
And then he went to Lakota Nation.
I saw a little blurb about him winning but didn't see the results for about a week after the race.
16:41 at LNI and a 25 second win over Fast Wolf of Red Cloud. Then I looked a little deeper into the results and realized that Wyoming Indian was at the meet and that Keegan Her Many Horses was fourth in that race and about :45 seconds behind Weddell.
I like where this is going!
Just wanted to wish Mr. Weddell and the rest of the cross country kids from Todd County good luck as they hit those big meets over the next few weeks.
Mr. Weddell, you getting up and running with those big-boys of Class A is something you can do. You have to trust yourself that you're good enough and strong enough to win the whole freaking Class A race.
I maintain that I've never seen a stride as smooth and as effortless as the one that you're laying down these days. You have talent galore, now you just need to harness that, believe in yourself and trust that the training of the best cross-country coach in South Dakota, Tonya WWS, will take you to places that you've only dreamed about.
You can do this.
I still believe…..do you?