Rich Winter: Are the Todd County boys the best kept secret in south-central South Dakota?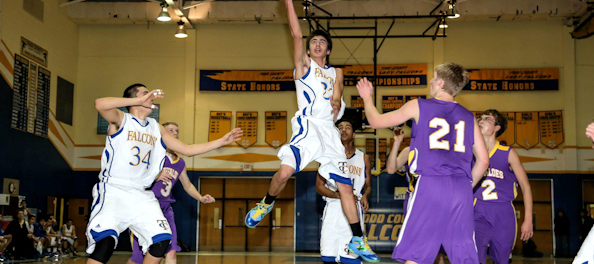 By Rich Winter
Mike Hammer, Todd County head basketball coach said I could have a personal interview with him on Monday afternoon as the Todd County boys hit the floor for their first practice of the season.
(Not sure if he was just saying that because he thought I wouldn't show up, because I'll find a way…Skype, Facebook, Chat…). Bet Hammer a Mtn. Dew he blows it.
At any rate, I'm kind of excited to see what this team does this year.
I like the nucleus of returning players.
Matt Dunham should be one of the best big men in the area as he's all grown into his 6-foot-5 frame.
Matt Dunham – 6-foot-5 F/C – Word on the street has it that Matt Dunham has put on some weight and is begging to play down in the low block. Dunham might be the best big-man at the upcoming Lakota Nation tournament and he's almost a given, double-double every night. Have a feeling that Dunham will be one of the premier rebounds in the area and probably have some big scoring numbers as he'll be capable of abusing other posts in that low block.
Joe Clairmont – 6-foot-2 with great leaping ability and the ability to take people off the dribble. Claimont can dunk with ease and I'm expecting we'll see a bit of that this season. Probably one of the best athletes in south-central South Dakota (needs to go out for track) and he has a little bit of an edge about him that makes him tough to guard and hard to score on. Claimont, like Dunham is a double-double waiting to happen. Good athlete than can grab the rebound and drive coast to coast before you blink.
Austin Hammer – 5-foot-11 (Hammer height) – Austin came onto the floor as a starter his freshman season because he's a great passer and a defensive player that likes to harass the other teams guards. A little smallish his first two years, I look for Hammer to have a break-out type season as his scoring from beyond the arc could make things a lot easier.
Three returning starters should provide a very solid nucleus for Todd County to build around. I like the combination of a center/small forward and guard coming back.
I also like the transfer players that came over from White River and St. Francis.
Gunner Piper – Good athlete, great understanding of the game and is going to be looking to make an immediate impact on this Todd County team.
The Eagle Bear boy (Sorry, can't remember his first name) – I remember watching this guy play JV at White River a season ago. He's about 6-foot-4 with some really good leaping ability. He's a shot blocker and a guy that could easily score in double figures as the season goes along.
Junior Dru Espinoza – Started last year at St. Francis Indian School. Another player that goes about 6-foot-2 and can really handle. Espinoza started last year at St. Francis and got a lot of playing time. He's lethal from behind the arc which should really give Todd County some easy baskets.
Lettermen missing:
Anthony Bizardie – (College)
Shane Witt – (Transfer to St. Francis)
Sean Stinson – Graduated
Jeremy Long – (Creighton)
Chuck Spotted Elk – Graduated
LNI projections – I believe I've heard that Todd County is the 8th seed at LNI this year. I believe the Falcons win that first game, lose to the No. 1 seed the next day and then win out. A 3-1 performance at LNI should get these guys ready for their regular season.
Season outlook (Usually I'll visit with the coaches before I doll into this area, so this is only my opinion)
Falcons will be well above .500 this season but they will need to develop some younger players and make sure they are getting contributions off the bench. If they can find guys that can knock down threes they could do quite well. Must play solid defense and develop a good team chemistry that feeds off one another.
By the end of the year this experienced team is going to be a tough out!