Rich Winter: Are the Red Cloud Crusaders top dogs at LNI? – (Season preview)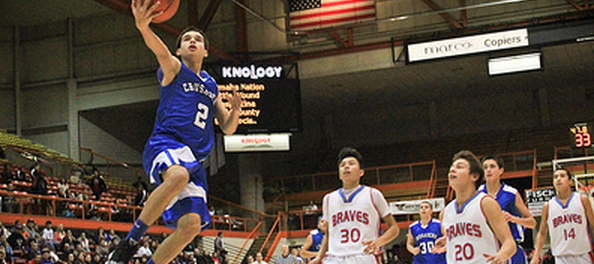 By Rich Winter (At long last, here is the Red Cloud boys basketball preview)
Seems like the Red Cloud Cruaders have a lot of intangibles that say they are going to have a monster season. The Crusaders are deep, relatively big, experienced and probably hungry for a state tournament berth after losing to Pine Ridge, 69-60 in the Region 7A final.
Junior forward, Kobey O'Rourke said that loss to Pine Ridge has driven this team in the off-season.
"Last year we were a young team with no chemistry and after losing to Pine Ridge we said we didn't want to feel that feeling again. In the off season we bonded as much as we could. I feel like we're more of a family and we all improved together and I'm really excited to get back out there with my team."
The Crusaders enter the 2014 Lakota Nation tournament as the No. 1 seed, and I'm guessing with Pine Ridge winning a year ago, these Saders are going to mean business in Rapid City.
Graduation losses: 
Bailey Pourier (12.2 PPG), Marco Starr, Caine Ghost Bear (3.9 PPG, 4.0 RPG)
Players to keep an eye on for Red Cloud:
Colby Hunter – 6-foot-2, senior (Had 22 points in that Region 7A loss to Pine Ridge) That 22 points was a near miss on a career high, Hunter had 23 against Custer in last year's LNI tournament. Scored 250 + points a year ago, would not be surprised to see that number up around 400 this year. Really good player that when combined with Koby O'Rouke might be the best one/two punch at the 2014 LNI tournament.
Koby O'Rourke – 6-foot-2 junior – Might be the best player at the 2014 LNI tournament. Had one of the best sophomore seasons in Red Cloud history. Career high of 32 points vs. Alliance and only missed double-figures once last season (8 vs. Little Wound). Scored 369 + points a year ago, likely to be closer to 500 this season. (Keep an eye on this guy…shot 53 percent from the field a year ago).
Kobey O'Rourke in action vs. St. Francis in the Region 7A semis of a year ago.
Jacob Fast Wolf – Junior – Only played the last five games of the year on varsity a season ago but still averaged 4.2 PPG in those contests. Another year older and with some graduation losses, Fast Wolf will likely have a bigger role on the team this season.
Mato Hinton – 6-foot-4 senior – A Crusaders big guy who is going to be asked to do a lot of dirty work down low. Hinton was a non-factor at LNI a year ago but I expect he'll come up big for a Red Cloud team that is playing with CHAMPIONSHIP on the mind.
Randy Hughes – 6-foot-4 senior – Anytime you have a couple of twin-towers, Hinton and Hughes, good things can happen. Expecting a bigger role from Hughes this year as he and Hinton clog the lane.
Marty Richards – 6-foot-1 junior – Got a lot of playing time as a sophomore and made the most of that with some big games. Career high of 13 points vs. Todd County and this youngster averaged 5.3 PPG and 2.4 RPG.
Robert Looks Twice – 6-foot junior – Another one of those super sophomores from a season ago. Looks Twice had a career high of 21 vs. Hill City on Feb. 7, 2013 and he looks like the kind of scorer that will up that  big this season.
Promising prospects – Anyone that puts on A Crusaders uniform.
Analysis: This Red Cloud squad has a chance to be special. They have a fairly young team but those youngsters were good as sophomores and they are already battle tested. If they stay healthy, play together and knock down shots no reason why this team can't win LNI and I'd pencil them in as the favorites to represent Region 7A in the state tournament this year.
Have a great season Red Cloud!!