Quentin Raynor (Yakama) scored 21 points for the Yaks who Beat Blue Mountain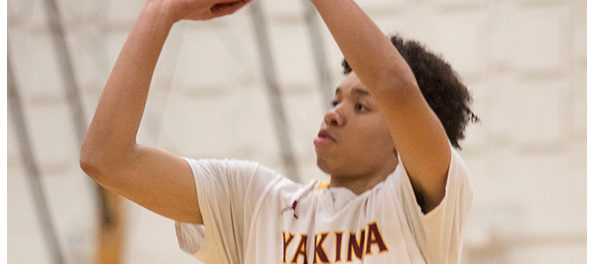 Yakima Valley College's men extended their NWAC East Region season-opening winning streak to three last week with a 94-81 victory at Blue Mountain, but the Yaks dropped their next two contests — 102-94 at home Saturday to Spokane and 100-81 on Monday at Walla Walla.
At 3-2 in the region and 12-6 overall, YVC will host division-leading Wenatchee Valley at 8 p.m. this evening in Sherar Gym.
Against Blue Mountain, Gamaun Boykin led the Yaks with 24 points, eight rebounds and five assists.Quentin Raynor (Yakama Tribe) scored 21 points, David Lindgren came off the bench for 15 and Kashif Davis, another reserve, added 13.
Yakima Valley, tied for third in the most recent NWAC coach's poll, returned to Sherar Gym last Saturday to host a Spokane team that nailed 15 of 30 shots from 3-point range.  Boykin totaled 29 points, nine boards and five assists, Raynor scored 18 points by hitting 6 of 8 long balls, Modesta Britten had 16 points and Trey Delp had 10.
Monday at Walla Walla, all five YVC starters hit double figures with Delp scoring 17 points, Boykin 16, Raynor 14, Britten had 13 points and seven rebounds, and Lindgren added 12 points.
Yakima Valley made only 11 of 20 free throws, however, while defending NWAC champion Walla Walla, ranked sixth in the NWAC, was 17 of 21.