No. 8 Louisville Women's Basketball, Virginia Square Off Again on Sunday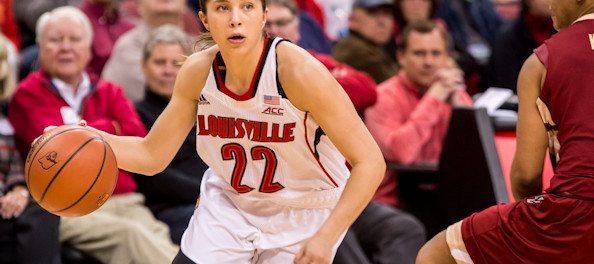 CHARLOTTESVILLE, Va. – The University of Louisville women's basketball team closes the regular season against Virginia, a team the Cardinals beat earlier this season, on Sunday at John Paul Jones Arena in Charlottesville, Va., at 1 p.m.
The March 1 contest will air on the ACC Regional Sports Networks (Fox Sports South in Louisville), with Tom Werme (play-by-play) and Debbie Antonelli (analyst) on the call. The radio broadcast will be available on WKRD 790 AM in Louisville, with Matt Andrews (play-by-play) and Adrienne Johnson (analyst) calling the action.
The two programs met in Louisville on Jan. 18, with the Cardinals earning a 67-55 victory in the KFC Yum! Center. Despite not hitting a 3-pointer in the game, Louisville shot better than 45 percent in both halves and scored 52 points in the paint. Sara Hammond had team highs of 20 points and nine rebounds.
No. 8 Louisville (24-4, 12-3 ACC) won its final home regular-season game, defeating Boston College 77-60 on Thursday for 'Senior Night.' The Cardinals outrebounded the Eagles 38-28, including 19-9 on the offensive end, and held a 22-5 edge on second-chance points. Louisville tallied 42 points in the paint and scored 38 points off Boston College's 27 turnovers.
Mariya Moore paced five Cardinals in double figures, scoring a game-high 18 points in just 19 minutes. She hit four 3-pointers for the fourth time in conference play. Shawnta' Dyer scored 13 points, and Myisha Hines-Allen added 12. Jude Schimmel had a solid all-around game, totaling 11 points, five rebounds, seven assists, and four steals. Bria Smith, who had 11 points and five rebounds, matched a career best with seven steals, the most since Shoni Schimmel had eight at Purdue on March 26, 2013.
With the victory, Louisville secured the No. 3 seed for a double bye in the ACC Tournament. The Cardinals' first game in the event takes place on Friday, March 6, at 8 p.m. on Regional Sports Networks. Louisville will face the winner of the No. 6 seed and the No. 11/No. 14 matchup.
On the year, Moore is leading Louisville in scoring (14.1), 3-pointers (50), and free throws (106), and is second in assists (104). Hines-Allen is second in scoring (11.8), and Hammond is averaging 10.8 points and a team-high 6.8 rebounds. Smith has totaled a team-best 60 steals, with Schimmel just behind with 59.
The Cavaliers (16-12, 6-9) have dropped five of their last six after a 72-70 loss at No. 15 North Carolina on Thursday. Virginia shot 50.9 percent from the field and outrebounded the Tar Heels 40-39, but North Carolina scored 22 points off Virginia's 21 turnovers. The Tar Heels also notched 38 points in the paint and 12 off the fastbreak.
Faith Randolph scored a game-high 24 points, hitting four 3s, while four other Cavaliers reached double-digit points. Sarah Imovbioh had 11 points and 12 rebounds, and Breyana Mason produced a game-best eight assists. Lauren Moses fell one rebound shy of a double-double, with 11 points and nine rebounds.
On the year, Randolph leads the team in scoring (16.9) and has a team-best 40 steals. Imovbioh is averaging 12.7 points and 10.8 rebounds, while Mikayla Venson is contributing 11.7 points. Mason ranks first on the team with 101 assists. The Cavaliers rank third in the league in 3-point field goal percentage (.354), averaging 5.7 treys per game.
The Cavaliers are under the direction of fourth-year coach Joanne Boyle, who has a 71-54 record at the helm of the program. Virginia was picked to finish 10th in the ACC Preseason Media Poll after going 14-17 last year.
GAME FACTS – Louisville at Virginia
Date: Sunday, March 1
Time: 1 p.m. ET
Site: John Paul Jones Arena (14,593), Charlottesville, Va.
TV: Regional Sports Networks (Fox Sports South in Louisville) will broadcast the game, with Tom Werme (play-by-play) and Debbie Antonelli (analyst) calling the action.
Radio: WKRD 790 AM will broadcast the game, with Matt Andrews (play-by-play) and Adrienne Johnson (analyst) calling the action.
Series History: Series is tied 1-1 (1-0 in Louisville, 0-1 in Charlottesville).
Last Meeting: Louisville defeated Virginia 67-55 on Jan. 18, 2015, in Louisville, Ky.
Next UofL Game: Friday, March 6, ACC Tournament, Greensboro Coliseum, Greensboro, N.C., 8 p.m. ET (RSN/FOX)