No. 13th ranked Davion Jeffries (Muscogee Creek) goes 2-0 over the weekend for Sooners in Big 12 Action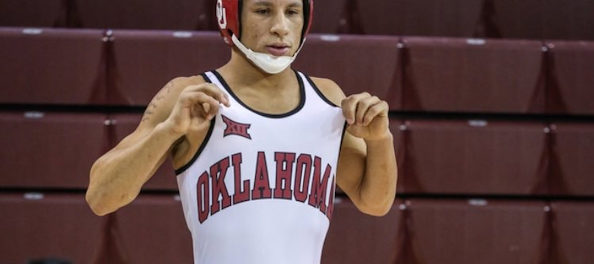 By Micah Thompson, SoonersSports.com
The No. 14 Oklahoma wrestling team downed Iowa State, 30-12, on Friday night inside Hilton Coliseum. With the win the Sooners moved to 7-4 overall and 3-1 in the Big 12.
The Sooners used five bonus-point victories, including one pin, two technical falls and two major decisions, for their sixth win in the month of January.
Davion Jeffries (Muscogee Creek Nation) started off the dual at 149 pounds with a 9-1 major decision over Gabe Moreno. The match was scoreless after the opening period, but Jeffries secured a reversal to start the second and tacked on a 4-point nearfall to lead 6-0 through the second. The sophomore added a takedown and the riding-time point in the final frame for the bonus-point win.
On Sunday , Oklahoma wrestling team earned its second win of the weekend, downing Northern Colorado, 35-6, afternoon inside Bank of Colorado Arena.
The Sooners (8-4 overall, 4-1 Big 12) used six bonus-point wins for their third straight contest scoring 30-or-more points. The win also capped off a 7-1 record in the month of January for Oklahoma.
Sophomore Davion Jeffries took control of the 149-pound matchup, dominating Ben Polkowske by 18-1 technical fall in five minutes. Jeffries tallied three takedowns, two 4-point nearfalls and a 2-point nearfall en route to the bonus-point victory.
Oklahoma returns to the mat on Friday, Feb. 3 in Brookings, S.D., at 8 p.m. for a Big-12 matchup with No. 19 South Dakota State. The Sooners travel straight to No. 18 Northern Iowa for a 2 p.m. contest in Cedar Falls, Iowa.