No. 13 Davion Jeffries (Creek Nation) secured an 8-6 decision to Help Sooners Win 37-6 over West Virginia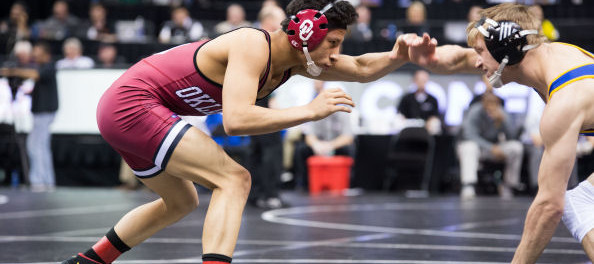 By Micah Thompson, sooner sports
NORMAN – The No. 14 Oklahoma wrestling team recorded five bonus-point wins to upend Big 12-foe West Virginia, 37-6, on Sunday afternoon inside McCasland Field House.
The Sooners recorded three wins by fall at 125 pounds, 184 pounds and heavyweight and two technical falls at 157 pounds and 174 pounds to improve to 6-4 on the season and 2-1 against Big 12 opponents.
"I think our team wrestled well," OU Head Coach Lou Rosselli said. "I think they prepared well. They did all the little things right. They wrestled hard. They did a good job on top trying to get bonus points when we could. We had a couple matches, a couple close ones, but overall, I was very pleased to watch people grow and get better."
Christian Moody got the Sooners off to a hot start with a win by fall in 6:13 over WVU's Devin Brown. Brown led 4-3 entering the final frame, but Moody took him to his back for a takedown and secured the pin to give the Sooners six points to start the dual.
At 141 pounds, Mike Longo recorded a 7-2 decision over Joe Wheeling. Wheeling struck first with a takedown, but Longo countered with a reversal to lock the match at 2-2 after the opening period. Longo registered a reversal to start the second and a 2-point nearfall in the third to give OU a 9-3 advantage.
No. 13 Davion Jeffries (Muscogee Creek Nation) secured an 8-6 decision over Christian Monserrat in an exciting 149-pound bout. Monserrat held a 4-2 advantage late in the second frame, but Jeffries got a quick takedown and 4-point nearfall to lead 8-5 at the end of the period. The sophomore held on in the third period for the win.
The Sooners return to the mat on Friday, Jan. 27 in Ames, Iowa, for another Big 12 matchup with Iowa State. Oklahoma returns home on Friday, Feb. 10 for a contest with Wyoming at noon in McCasland Field House