NMSU Aggies Abby Scott (Warm Springs Tribe) Named to Preseason Western Athletic Conference 2nd Team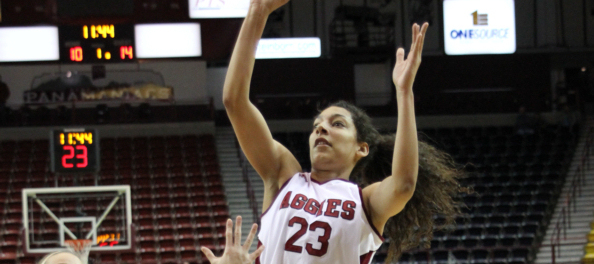 LAS VEGAS, Nev. – The Western Athletic Conference announced its preseason coaches' poll and media poll along with its All-WAC selections for women's basketball during its annual Media Day in Las Vegas on Wednesday.
New Mexico State was predicted to finish fifth in the conference by the coaches with 29 total points, and in a tie for third place with Texas-Pan American by the media.
"We're really excited about the upcoming season," Aggie head coach Mark Trakh said. "We're excited about the direction of our program and I think we'll be very competitive this year."
Aggie juniors Sasha Weber and Abby Scott (Confederated Tribes of Warm Springs) are part of the All-WAC preseason teams.  Weber was honored as a first team All-WAC member in both polls while Scott was placed on the second team All-WAC list in both polls.
Scott played in all 31 games as a sophomore, starting in 20 of those games.  She finished with a .351 field goal percentage and shot over 30 percent from 3-point range while averaging 10.8 points/game and 3.0 rebounds/game.
Scott had a career night versus Chicago State last season when she scored 36 points and broke the school and WAC record for most 3-pointers in a game, finishing with 11 total makes from beyond the arc.  She finished one 3-pointer short of tying the NCAA record, which still stands at 12.
"Abby's never met a shot she didn't like," Trakh said. "She's a great kid and works hard, one of the hardest workers I've ever had."
NM State begins its 2014-15 season in less than a month as they travel south to El Paso, Texas, to face I-10 rival UTEP on Friday, Nov. 14, inside the Don Haskins Center.
Western Athletic Conference Official Release: http://www.nmstatesports.com/pdf9/2911919.pdf?ATCLID=209717364&SPSID=9599&SPID=586&DB_LANG=C&DB_OEM_ID=1900