New Nike N7 Equality T-Shirts Hit The Hardwood For Native American Heritage Month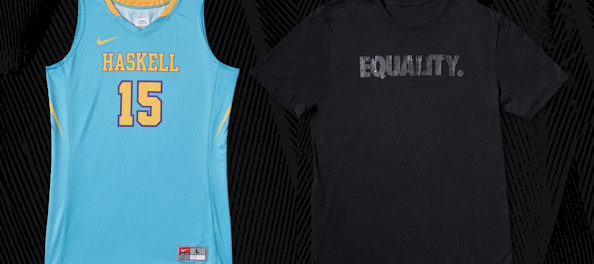 It's the 10th year of Nike's N7 program, and in addition to partnering with 10 collegiate basketball programs to celebrate Native American Heritage Month with N7 turquoise uniforms and other N7 apparel and footwear, each team will also be given a new N7 EQUALITY tee that they are allowed to wear on the hardwood during pre-game warm-ups.
Haskell Indian Nations University (the only all-Native American school in the country), Nevada, San Diego State, New Mexico, Florida State, Oklahoma State, Stanford and Oral Roberts (shown below, clockwise from top left) will wear new versions of the N7 turquoise uniforms during select men's and women's basketball games throughout November and into December (you can see the schedule below).
"ORU is proud to associate with N7," says Scott Higgins, Senior Associate Athletic Director at Oral Roberts University. "It's great to be able to play this game honoring Native American heritage."
Brad Hutchins, Deputy Athletic Director at New Mexico, echoes the sentiment, saying, "Our involvement with Nike N7 allows us to help create awareness and to be active in our community."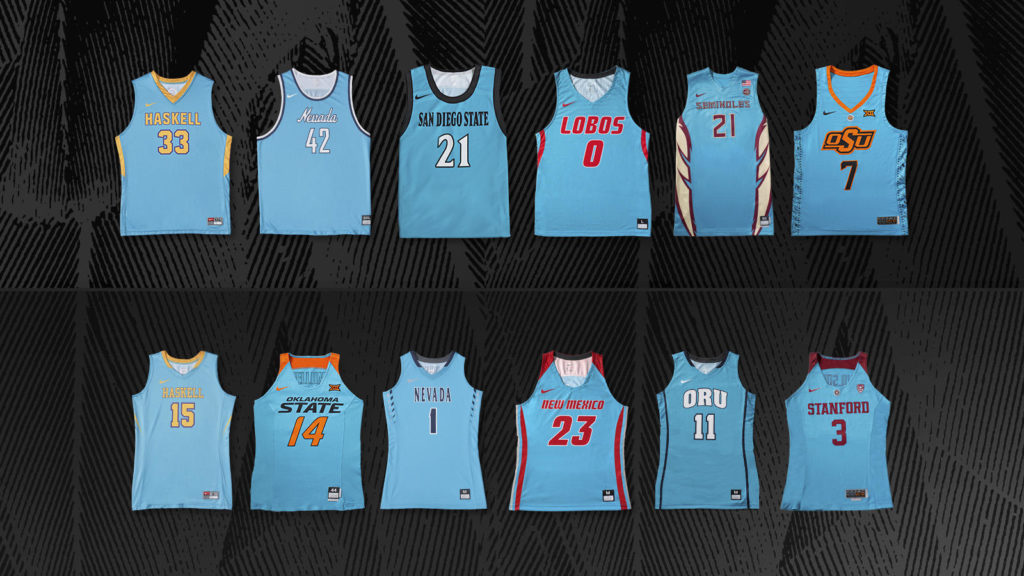 2017 NIKE N7 NAHM UNIFORM SCHEDULE
MEN'S GAMES
11/13: Oklahoma State
11/14: New Mexico
11/14: Haskell
11/17: Florida State
11/17: San Diego State
11/18: Nevada
11/20: Oklahoma State
11/27: Marquette (will wear the Nike N7 Jordan SuperFly only)
11/29: Nevada
11/29: Oklahoma State
12/16: Florida State
WOMEN'S GAMES
11/14: Oklahoma State
11/18: New Mexico
11/19: Stanford
11/20: Oral Roberts
11/21: Haskell
11/24: Nevada
The 10th participant program, Fort Lewis College in Colorado, won't wear a turquoise uniform but will be given the EQUALITY shirt.