Nationally televised MMA Event Features Native American Referees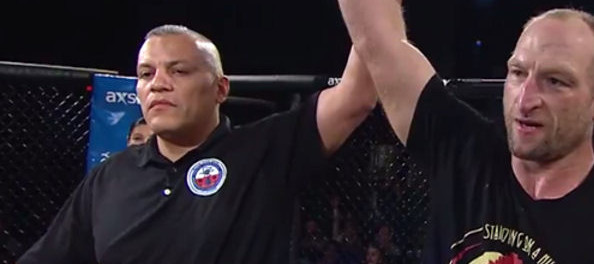 Mille Lacs Band Leading The Way In Sovereign Athletic Regulation
Hinckley, MN , February 5, 2016- Legacy Fighting Championships 51: Ramos Vs Vazquez was broadcast live from the sold out Grand Casino Event Center in Hinckley, Minnesota on AXStv last Friday night. It was regulated by the Mille Lacs Band of Ojibwe Department of Athletic Regulation. The several thousand people in attendance along with the national television audience, witnessed history. Sure, The Minnesota MMA Legend Brock Larson retired and received a hero's send off. But, what most people may have not realized, is that this event is believed to be the only nationally televised sporting event to feature an all Native American cast of referees. Rocky Demier (Quapaw Tribe) Tyrone Roberts (Meskwaki Nation) oversaw every single televised bout.
Eyes around the country were tuned to the promotion Legacy, which has built a reputation for amazing fights and a direct pipeline to The UFC. Greats like Women's Champ Holly Holm and Phenom Sage Northcutt recently made the leap to the world's most popular fight promotion from Legacy. In fact, Dana White, the president of The UFC was in town scouting a dynamic roster and filming an episode for his reality show "Lookin' for a Fight." This was the perfect opportunity to showcase some of Indian Country's hidden jewels and The Mille Lacs Band did just that.
UFC Hall of Famer and commentator Pat Miletich complimented both referees during the live broadcast and even spoke about Tyrone's time in the UFC with his brother Andre Roberts.  Tyrone "The Native Warrior" Robert's professional record is 43-11-1 and he fought in UFC 26. Andre "The Chief" Roberts 14-2-1 and fought in UFC 17, UFC 19 and UFC 21.  Rocky Demier was also a professional mixed martial artist in early 2000s. He has since trained several fighters and owned a gym until deciding to concentrate on officiating.
The Mille Lacs Band Department of Athletic Regulation was one of the very first tribally run athletic commissions. They were one of the first tribes to be accepted into the Association of Boxing Commissions and are regarded as one of the best run commissions in the country. They have worked with several tribes across the country, ensuring the safety of the fighters and that everyone is treated fairly.
"Our goal is to regulate each and every event with an unmatched enthusiasm and excitement from everyone in our organization. I truly believe that we have some of the best fight inspector's in the country and they are ALL Band members.  We don't bring in outsiders like some might, they are all our people. That goes a long way.  That gives us an un-paralleled sense of pride and satisfaction. We know we that our inspectors are going to do a great job no matter what. So why can't we do that with every position?" Said Executive Director, Matt Roberson   "So that is what our goal is.  Our commissioners and I came up with this idea about 'Community Based Athletic Regulation' – Making a bigger impact on the community as-a-whole and putting our people to work is one of the first steps towards that."
"We looked across the country for the best Native American MMA Referees and I believe that we found them. I have known Rocky for several years, We brought him up from Arkansas. Tyrone is a UFC Vet and has reffed several King of the Cage shows and many other events. We found him on the Meskwaki Reservation in Iowa. These are 2 great guys who are great at what they do. This is what we should be doing. Helping our brothers. I am glad we did, I have received nothing but rave reviews from commissions and other referees from across the country."
What's up next for these guys? Rocky Demier will be officiating Sugar Creek Showdown, a promotion owned by the Wichita and Affiliated Tribes and Tyrone Roberts will be officiating King of the Cage at the Winnavegas Casino on MAVTV.  Both are scheduled to appear at Mille Lacs Band Indigenous Athletic Commission Summit in Oklahoma City at the end of March. The summit is open to any tribe holding athletic events or thinking about it. Native American Professional fighters are also encouraged to attend. More information can be found at www.IACSummit.com .