Nakehko Lamothe (Bigstone Cree Nation), continues to give back to kids in his community as he fulfills a desire to be a role model for indigenous youth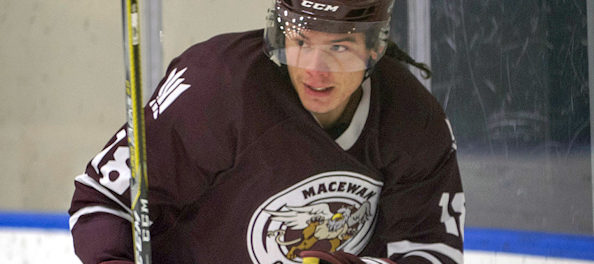 efferson Hagen / MacEwan Athletics
EDMONTON – Much to Nakehko Lamothe's delight, a brand-new hockey rink popped up next to his house in Calling Lake, Alta., when he was four.
Before that, folks had to clear off lake ice to play the game in the small town north of Athabasca.
But Lamothe knew no different and was on that rink almost daily.
"It was perfect timing," he said. "I would walk over there and just skate. I loved it. By then it was part of the culture of my community where everyone loves hockey."
Fast forward 15 years and he's one of the top power forwards in the Alberta Colleges Athletic Conference, using his 6-foot-3, 210-pound frame in all areas of the ice for the MacEwan Griffins. In his second season of university hockey, Lamothe has six goals and eight points in 17 games.
"He plays with a lot of emotion and passion, and he's difficult to play against," said Griffins interim head coach Michael Ringrose. "That's, I think, probably his strongest trait. He has the ability to play against the other teams' best players and shut them down because he just keeps going. He doesn't seem to ever run out of energy, he's always got something left in the tank.
"He can kind of play that testy, checking centre role and he does it exceptionally well."
That talent took him to Vimy Ridge Academy and eventually through the Edmonton SSAC AAA programs before playing in three different Canadian Junior A leagues – AJHL, SJHL, MJHL. It was his last year of junior for the La Ronge Ice Wolves in 2016 when he signed to play at Fort McMurray's Keyano College … only to see an online posting that they folded the program.
"I never got a phone call from (the coach) or anything," said Lamothe. "I just knew that I wasn't on a team anymore."
Although he wasn't initially in the plans for MacEwan's roster, there he was starting in Game 3 of the Griffins' ACAC Championship win over the NAIT Ooks.
"I've never been a part of a team like this before – one that's so close-knit and hard working," he said. "For me, I got involved in that type of culture and it elevated my game."
Part Dene and part Cree, Lamothe is passionate about being a role model for Indigenous youth, in particular for those of the Bigstone Cree Nation where he grew up.
"For me, that's what really drives me – when I work out in the summer or stay out on the ice after (practice) shooting pucks, I'm trying to make myself the best player I can be for them, so they can see (what it takes)," he said. "The kids from my home community, the further I go, they think they can do that, too. That really drives me."
For the past four summers, he and an elder in Calling Lake have run a hockey program for kids, which includes video work, nutrition and workout plans designed to mimic those of high-level players.
When he went back during Christmas break, they were watching Hockey Night in Canada together and saw a feature on how Calgary Flames defenceman Travis Hamonic, who is of Indigenous descent, was flying in Inuit families for the full NHL game experience.
After next seeing an interview with Hobey Baker hopeful Devin Buffalo (Dartmouth) about growing up in Wetaskiwin and his desire to be a positive influence on aboriginal youth, an idea was solidified.
They would invite a group of kids from Calling Lake for a day at MacEwan University, essentially giving them a day in the life of a student athlete. So, last Wednesday, Lamothe and some of his Griffins teammates hosted 10 kids from Calling Lake and two from Edmonton for an occasion they called 'Shadow Day.'
"The day was just showing them what exactly you do as a student-athlete," said Lamothe of the kids aged 13-17. "We included them in a workout. We showed them a nutrition documentary. We did a hockey video session similar to what we'd do with the hockey team – breaking down different plays."
They were also on the ice, learning the skills they'd seen in the video session.
Then there was the student part.
"Each of them went to a different class – three of my teammates volunteered for that. There were 12 kids and three were in each group," said Lamothe. "Each group went to a different class. One of them was actually an athletic council meeting for MacEwan Athletics. That was pretty cool for them. They loved it."
What he hopes is the experience sows the seeds of belief in the youth, who can see what it takes to become a university student-athlete.
"This was a good opportunity to show them what the end result would be – the lifestyle, the atmosphere of university," he said. "It's a really positive feeling when you come in here.
"It just shows them what they're working for."
While community involvement has always been a major pillar of what it means to be a student-athlete at MacEwan, Lamothe's 'Shadow Day' was a real hit in that department.
"It's something special," said Ringrose. "For me, what's even more impressive is it wasn't prompted, it wasn't scripted, it was something he truly believed in from the heart and wanted to do.
"For me, when I see someone that has that kind of passion to support their community, it definitely makes me proud, but it's something the university should be proud of, as well."
Lamothe, who is working on a Science major at MacEwan, wants to do even more for the kids of his community.
"My ultimate goal after hockey is to go back to my community and work with those kids," he said. "I'd love to start a hockey academy – like how I went to Vimy Ridge. (I want to) get them playing hockey and get them in that athlete mindset and change the culture. That's what I really want to do.
"That's what drives me, too."