Muskies make a run in second half, take down Cougars 76-60; Derick Denny (Oneida Tribe) Scores 14 for Lakeland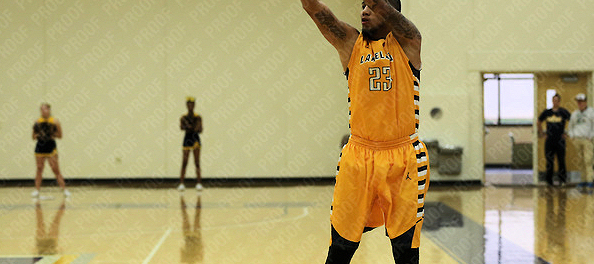 RIVER FOREST, Ill. – Eric Nygaard posted a double-double in his first collegiate start and the Lakeland College men's basketball team used a big second half run to pull away from Concordia University Chicago for a 76-60 win Saturday afternoon.
Nygaard had 12 points and 15 rebounds as the Muskies improved to 4-0 and won their Northern Athletics Collegiate Conference opener. Lakeland also defeated Concordia (2-2 overall, 0-1 NACC) for the seventh straight time and has not lost to the Cougars since 2009.
The Muskies went on a 19-2 run midway through the second half to take control of what was a close game for more than 25 minutes.
Lakeland led just 46-43 with 14:23 to play after a layup by Concordia's DeAires Blackwell. The Muskies scored the next 12 points, though, and eventually built their largest lead of the game when Derick Denny (Sr.-Oneida Tribe of Wisconsin) hit a three-pointer to make it 65-45 with six minutes remaining.
The game started out looking like it would be a rout as the Muskies quickly built a double-digit lead. Lakeland led 21-8 just past the midway mark of the first half after a three-pointer by Brandon Hagenow.
The Cougars bounced back, though, and took the lead for the first and only time of the game when Kylan Anderson's jumper made it 26-25 with 3:41 left in the half. Lakeland responded to take the lead back, and Hagenow hit a three-pointer just before the break for a 36-30 halftime lead.
Joey Burris scored 15 points to lead four players scoring in double figures. Denny added 14 and Stan McKenzie  pitched in with 11 points and seven rebounds.
The Muskies shot 42.9% (24 of 56) but took advantage of 17 Concordia turnovers, finishing with a 19-9 advantage for the game in points off turnovers.
The Cougars shot 41.4% (24 of 58), including 12 of 29 in each half. Tino Vazquez led Concordia with 19 points and nine rebounds.
The Muskies are home for their next game Tuesday when they host Wisconsin Lutheran College at 7 p.m. at the Moose & Dona Woltzen Gymnasium.