Missouri Southern QB Brayden Scott (Cherokee) Threw for 192 yards and Three Touchdowns as Lions Falls 32-29 At NSU In Double Overtime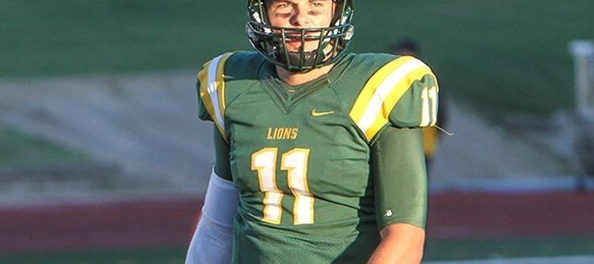 By Justin Maskus
ahlequah, Okla. – Northeastern State got a 23-yard touchdown pass in double-overtime and the RiverHawks defeated Missouri Southern 32-29 today inside Doc Wadley Stadium.
The Lions were led offensively by Brayden Scott (Cherokee Nation) as the quarterback went 15-35 for 192 yards and three touchdowns. Scott also rushed for 80 yards on 13 carries. Freshman Dalton James, seeing his first extended action of the season, rushed the ball 15 times for 74 yards, while catching three passes for 37 yards and a touchdown.
Devontai Pounds caught two passes for 53 yards and a touchdown, while Deuaze Johnson caught two passes for 37 yards and Josiah Bennett caught two passes for 30 yards and a score.
Defensively, Angelo Sumler had 12 tackles and Akel Beard had nine stops. Roc Robbins had six tackles and a sack, including a PAT return for a score.
NSU (1-8, 1-8 MIAA) quarterback Cade Yaeger went 23-42 for 273 yards and three scores. Gary McKnight, Jr. caught six passes for 127 yards and two scores.
The Lions won the opening toss and elected to receive. Scott completed a pass to Josh Hadley for 12 yards to get things started and then hit Hadley for another eight-yard pass. Scott completed another pass to Johnson for seven yards, before he hooked up with Pounds for a 41-yard touchdown pass to go up 7-0 early on.
Robbins blocked a field goal from NSU with 14:51 left in the second quarter, but the RiverHawks tied the game at seven with 11:09 left in the second quarter. NSU then went ahead with a 20-yard field goal to lead 10-7 with 8:27 to go in the half.
Scott hit James for a 17-yard pass and score with 3:01 left before halftime to go up 14-10.
The RiverHawks got a touchdown pass from Yaeger to Ra'Keim Abdul with 53 seconds left in the half, but Robbins blocked the extra point and recovered the ball, lumbering 70-plus yards to get the two-point PAT return and tie the game at 16 going to the half.
Neither team scored in the third, but the Lions went up 23-16 with 7:53 left in the fourth. A NSU fumble, recovered by Martin Cano gave the Lions the ball back on the NSU 41-yard line.
Scott worked a quick drive and after a pair of rushes from James for seven yards each, Bennett caught a 25-yard pass for the score.
NSU tied the game at 23 with 1:36 left in the fourth, giving the Lions the ball and a chance to win late. Neither the Lions, nor the RiverHawks would score as both teams had a possession in the final 1:36, sending the game to overtime.
Both teams made a field goal in the first overtime with Brock Renken hitting a 32-yarder to tie the game and send it to double-overtime. Renken connected on another field goal, this time from 42 yards to give the Lions a 29-26 lead, but a 23-yard touchdown pass for the RiverHawks gave NSU the win.
The Lions will be back in action next Saturday as Southern plays host to Lindenwood University for Senior Day. Kickoff from Fred G. Hughes Stadium inside the Robert W. Plaster Sports Complex is slated for 2 pm.