MHA Nations Esley Thorton and NDSU Bison upset Iowa State Cyclones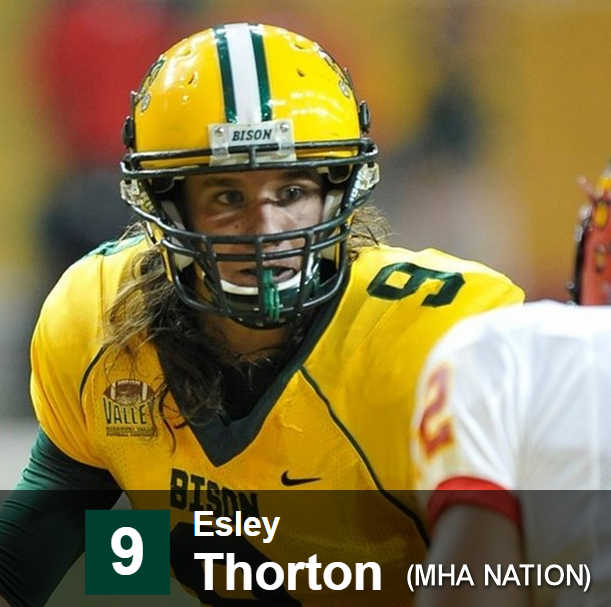 (AMES, Iowa) – MHA Tribal Nations Esley Thorton and the North Dakota State Bison pulled off their fifth consecutive win over a BCS team by upsetting the Iowa State Cyclones from the Big 12 Conference by a final score of 34-14. This is the third consecutive Big 12 team the Bison have defeated in the past three years after defeating the Kansas State Wildcats and the Kansas Jayhawks previously.
Thorton, a senior starting linebacker for the Bison, had 4 tackles in the game with three of the being solo tackles and he also broke up one pass.
The Bison lost 12 starters and their head coach after winning their third straight FCS championship last season, but they looked just as efficient as ever under new coach Chris Klieman, rallying from a 14-0 deficit for their fifth consecutive victory against FBS competition.
Crockett charged through a hole in the middle of the line and sped 80 yards for his team's first touchdown early in the second quarter — the longest run of his career — and the Bison dominated from then on.
Carson Wentz, the backup quarterback the last two seasons, showed impressive poise as he picked apart an inexperienced Iowa State defense and finished 18 of 28 for 204 yards with no interceptions.
Iowa State came in determined to avoid a repeat of last year's opener, a loss to FCS Northern Iowa that started a spiral toward a 3-9 season, and the Cyclones looked sharp in scoring on two of their first three possessions.
But new coordinator Mark Mangino's offense stalled repeatedly once veteran center Tom Farniok went out with an apparent left knee injury late in the first quarter.
The Bison, with an entirely new offensive line, rolled up 503 total yards of offense to Iowa State's 253 and held an advantage in time of possession 35:47 to 24:13.
North Dakota State (1-0) plays Weber State (0-1) at 6 p.m. MT next Saturday, Sept. 6, at Stewart Stadium in Ogden, Utah.  The Wildcats lost 45-14 at Arizona State on Thursday night.