Mariah Stacona (Warm Springs Tribe) had 21 points for Northwest University in OT Loss to Warner Pacific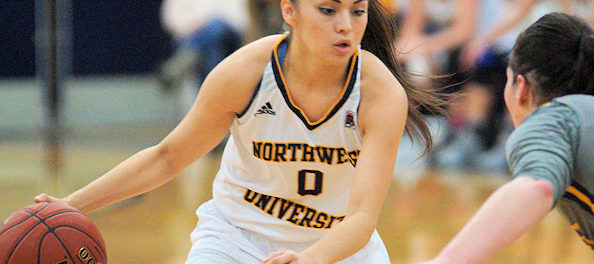 Box Score PORTLAND, Ore. – A fourth quarter comeback by Warner Pacific would tie the game in regulation as the Knights would defeat the NU Eagles 81-77 in overtime tonight.
The Eagles would take a 50-45 lead going into the final period, but Warner Pacific's pressure defense would force six NU turnovers as the Eagles would also go cold from the field hitting just 2 of 9 from the field. But, the Eagles would make a furious comeback at the end in order to send the game into extra time.
Trailing by four, 68-64, with 55 seconds left in the game, Andie Kristinat would hit a big 3-pointer to make it a one point, 68-67 game. WPC would make it a 3 point lead on a lay-up by Kendyl Cone, but Kalee Fowler would hit one free throw with 6 seconds to go to make it 70-68, WPC. Missing her second shot, Miranda Langenhorst would come up with a big offensive rebound, but Mariah Stacona (Warm Springs Tribe) would miss the 3-point attempt. Fowler would then grab a key rebound and would be fouled with 4 seconds left on the clock. She would then sink two free throws to tie the game at 70-70. WPC would then fail on a final shot attempt to send the game into extra time.
In the overtime, it would be Warner Pacific taking a 73-70 lead with three free throws. With 1:46 to go in the period, Kendyl Cone would hit one of two free throws to put WPC up 75-70. Mariah Stacona would sink two free throws with 1:20 left, to make it 79-77, but would not score the remainder of the game as the Knights would post the victory.
Northwest U (2-6, 1-1 CCC) had four players in double figures led by Mariah Stacona's 21 points, 7 assists and 5 steals. Kalee Fowler scored 15 points adding 5 assists with Miranda Langenhorst contributing 13 points and 14 rebounds. NU shot 39% for the game, but managed just 17% in the overtime period. The Eagles held the edge in rebounding with a 51-50 margin.
Darbi Pink led Warner Pacific (3-7, 1-1 CCC) with 16 points and 7 rebounds. Emily Peters added 14 points while Kendyl Cone led the Knights in rebounding with 12.
"This was a tough loss for us tonight," said NU coach, Ken Crawford. "But what a fun game to play! Big crowd with lots of emotion. It was another game that went back and forth the entire night. We made some crucial free throws at the end of regulation to send the game into overtime. Would like to think we just ran out of time. We're looking forward to getting back home and getting on the court Tuesday for our first home game of the season."

Next Up: NU hosts Lewis & Clark College from Portland on Tuesday night in the Pavilion at 7:30 p.m.