Mackenzie Wahpepah-Harris (Kickapoo Tribe) and OCU Stars are Preseason No. 1 XC Team in the Nation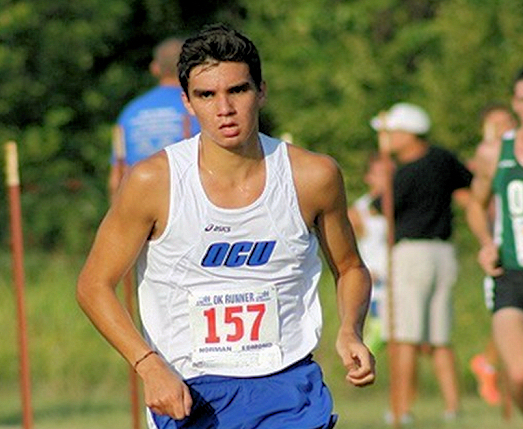 KANSAS CITY, Mo. – Defending national champion Oklahoma City University opens the year at No. 1 in the NAIA men's cross country preseason rankings. Fresh off its first men's cross country national championship in school history in 2013, the ranking marks the Stars' second straight and second No. 1 ranking in program history.
Oklahoma City regained first place from its postseason ranking a year ago after capturing the national title at Rim Rock Farm in Lawrence, Kan. Oklahoma City received 591 points and amassed 20 of the 21 first-place votes.
As the Stars look to defend their title this season, the squad returns three all-American athletes from the national championship team one year ago – juniors Arya Bahreini and Peter Koskey and sophomore Mackenzie Wahpepah-Harris. OCU opens the season in the Central Oklahoma Land Run at Edmond Santa Fe High School at 8 a.m. Sept. 6.
Wahpepah-Harris, a member of the Kickapoo Tribe of Oklahoma, earned All-American status by placing 25th overall at the championships. Mackenzie said, "We'll we knew going into the race that we had a shot to win it all, as long as we all ran to the best of our ability… In the end I passed two guys and couldn't believe my time. I had no idea I was going that fast, I hit a 30 second personal record. All my training over the season finally paid off."