Lyle Thompson (Onondaga) became the first player to reach 100 points in Georgia Swarm history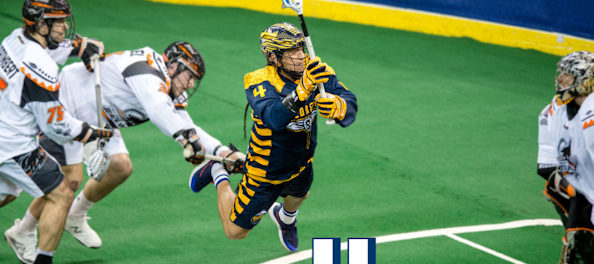 By Ty Merrow
Lyle Thompson (Onondaga Nation) has stormed to the top of the scoring leaderboard in his sophomore season as he makes a strong case for NLL MVP. His 108 points (40G, 68A) lead the league, bolstered by his dominant 35 points (12G, 23A) in April. Lyle has set personal single-game records with six goals in one game (2/19 against Rochester Knighthawks) and 11 points in another (4/1 against Colorado Mammoth).
With two games left in the regular season, Lyle has blown his rookie campaign numbers out of the water. In 18 games in 2016, Lyle recorded 60 points (27G, 33A), 17 of them on the power play (7PPG, 10PPA). He collected 81 loose balls while causing 12 turnovers, finishing his rookie year with a .180 shot percentage while going 18-for-33 on faceoffs.
This season, the No. 1 Overall in the 2015 NLL Draft has collected 111 loose balls while causing 13 turnovers, posted a .196 shooting percentage, gone 21-for-44 on faceoff opportunities, scored seven power play goals, 26 power play assists, and three shorthand goals. Lyle has scored eight or more points in eight of Georgia's 16 games and scored the game-winning goal three times. Compared to everyone in the NLL, Lyle's:
108 points lead the NLL
40 goals are tied for third-best
68 assists (26 which are on the power play) are second
111 loose balls are the best within the top 20 scorers
13 caused turnovers are the best within the top 17 scorers
21-for-44 on faceoffs, the next closest person on the scoring leaderboard with more faceoff opportunities and wins is Swarm captain Jordan MacIntosh  and his 191-for-385 on faceoffs.
145 shots on goal – tied for 10th – and has the best shooting percentage out of the top 10 scorers with .196.
"Lyle this year has certainly proven to everyone that he was definitely worthy of being the No. 1 pick overall in the 2015 NLL Draft," head coach Ed Comeau said about Lyle. "His ability to generate offensive opportunities for himself and teammates is very important to the success of our team. But even more important is how hard he works on loose balls, how hard he presses up the floor and creates turnovers, and the fact that he can run back and play defense. Lyle is a complete player and able to contribute to all aspects of the game."
Sitting at or close to the top in almost all stats, Lyle's regular season will conclude this weekend with two games against the Rochester Knighthawks. The first time Georgia and Rochester butted heads, Lyle scored six goals and four assists to help the Swarm come out on top 15-9. In May, Swarm fans will get to see Lyle lead the Swarm at The Hive in the playoffs as the team will host Game 2 of the East Division Finals on Saturday, May 20th.