Long snapper James Winchester (Choctaw Nation) Finds Himself Right at Home in Kansas City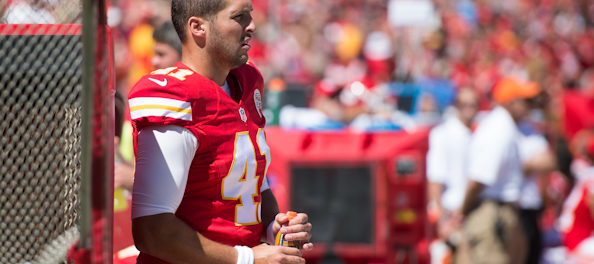 KANSAS CITY, MO- Long snapper James Winchester is in his second year with the Kansas City Chiefs and the Washington, Oklahoma native has found himself right at home in Kansas City.
Winchester says, "It's very easy to call this place home. It's a privilege to get to play here."
After a successful career with the Oklahoma Sooners, Winchester went undrafted in the 2013 NFL Draft. After going undrafted, Winchester was signed by the Philadelphia Eagles, but did not make the final roster in 2013.
Winchester was not picked up by another franchise and was out of from playing football for the entire 2013 and 2014 seasons, but it all changed in 2015.
When 2015 campaign rolled around, Winchester was given his chance to compete for the Chiefs' long snapper position in the preseason. Winchester would go on to win the job and make the final 53-man roster and he's been there ever since.
In Winchester's first year with Kansas City, the Chiefs went 11-5 in the regular season and advanced to the divisional round of the playoffs. The Chiefs went on a 10-game winning streak and relied heavily on their special teams, and that's where Winchester came in.
The Chiefs attempted 37 field goals last year, going 30-37 from Kicker Carlos Santos. Punter Dustin Colquitt punted 75 times, averaging 44.4 yards. Neither Santos or Colquitt had a single kick or punt blocked and they were all snapped by Winchester.
Winchester says, "Special teams is a big part of this organization. We all take pride in it." He went on to say, "Special teams is such a big part of the game. It's kinda overlooked from the outside. We gotta do our part to contribute to the offense and defense, to come out with a win."
So far in 2016, the Chiefs are 4-2 and are right in contention for the playoff hunt. Winchester spoke about where his team stands at this point in the season saying, "We like the way we're moving, which is in the right direction."
This season, Santos has gone 11-13 on field goal attempts, while Colquitt has punted 28 times. Just like the previous season, Winchester has snapped every punt and kick and not a single one has been blocked.
On Sunday, the Chiefs picked up a 27-20 win over the New Orleans Saints. Santos was 2-2 from field goal range, while Colquitt punted four times, averaging 47.8 yards, all snapped by Winchester.
Winchester attributed part of the win to the Chiefs Kingdom, "Arrowhead is such a great place to play. The fans and the atmosphere, it's just incredible. For this to be our home, speaks volumes about the organization and our fans."
Next week, Winchester and the Chiefs continue their push for the playoffs, as they travel to Indianapolis to take on the Colts. The Chiefs return home on November 6th, to take on the Jacksonville Jaguars.