LNI: Red Cloud turns up the heat with rout of Cheyenne Eagle-Butte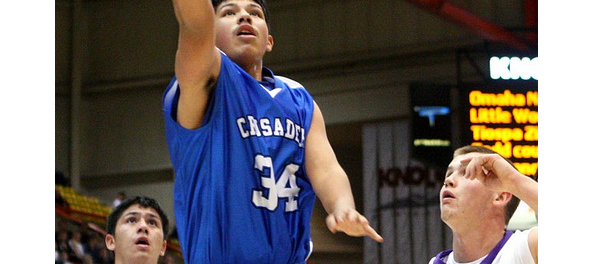 By Rich Winter
After facing some not so stiff competition in the first two days of the Lakota Nation Invitational, the Red Cloud Crusaders ran into a CEB team many figured would give them fits in Friday night's semis.
That drama didn't last long as the Red Cloud boys jumped out to a 51-36 halftime lead and just kept the bodies coming as they defeated the CEB Braves, 97-68.
All told, 13 players from Red Cloud scored, (14 played) led by 24 from Kobey O'Rourke as the Crusaders, 4-0, marched into the championship game of Lakota Nation where they will meet 4-0 White River.
Creighton Lebeau scored 21 for CEB who will play Little Wound for 3rd and 4th place today.
Box score:
Cheyenne-Eagle Butte 36 32 68
Red Cloud 51 46 97
CEB scoring: Wyatt Jewett 4, Grant Kohlus 13, Yazzie Jessup 2, Creighton Lebeau 21, Dayson Kohlus 6, Jalen Knife 4, Denton Shaving 2, Brexton Traversie 8, Brenden Walking Eagle 6, Sam Lebeau 2
Red Cloud scoring:
Marty Richards 9, Coby Hunter 14, Jake Danielson 8, Mato Hinton 2, Robert Looks Twice 14, Jack Fast Wolf 3, Randy Hughes 2, Terrell Pulliam 8, Will Garnier 5, Kobey O'Rourke 24, NuVassie Blacksmith 4, Mahpiya Briseno 2, Gabe Eagle Chief 2