Lindy Waters III (Kiowa Tribe) and OSU Basketball in Exhibition Action on Nov. 3rd at Gallagher-Iba Arena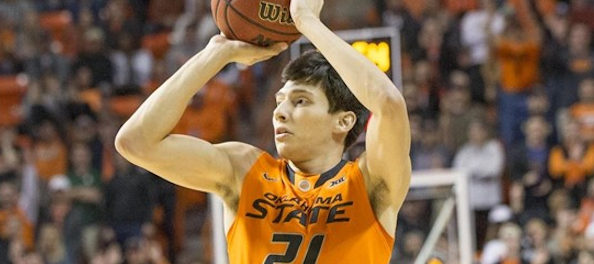 STILLWATER – Oklahoma State basketball coach Mike Boynton has announced the Cowboys will take on Arkansas-Monticello in an exhibition game at 7 p.m. on Friday, Nov. 3 in Gallagher-Iba Arena.
The exhibition game against the Boll Weevils will take place the night before OSU's Bedlam football showdown against Oklahoma, and will be the debut for Boynton, who was named OSU's head coach in March.
Tickets start at just $5 through the OSU Ticket Office (okstate.com/tickets or at 877-ALL-4-OSU), and the game will be broadcast on Fox Sports-Plus and the Cowboy Radio Network.
The Cowboys will be led by All-Big 12 wing Jeffrey Carroll, who will be the conference's highest-scoring returner for the 2017-18 season. Also, returning is Lindy Waters, III, (Kiowa/Cherokee) who led all OSU newcomers with 5.7 points per game in 23 appearances last season. Waters earned 12 starts, which isthe most by any OSU freshman in 2016-17 and he was named Big 12 Newcomer of the Week on Feb. 6 after going 5-of-5 from beyond the arc in road wins at Oklahoma and West Virginia.
Last year, the Boll Weevils went 23-7 and were the Great American Conference co-champions. Under head coach Kyle Tolin, UAM advanced to the GAC Tournament championship game, and earned a bid to the NCAA Division II Basketball Championship. This will be the first hardwood meeting between OSU and UAM.
OSU will open the 2017-18 season on Nov. 10 at home against Pepperdine, followed by additional GIA tilts against Charlotte on Nov. 13 and Oral Roberts on Nov. 16. This year's Big 12 Conference schedule and the non-conference television package are expected to be released in the coming weeks.