Lindy Waters, III (Kiowa/Cherokee) Drops 10 Points as Cowboys Fall to Horned Frogs in Stillwater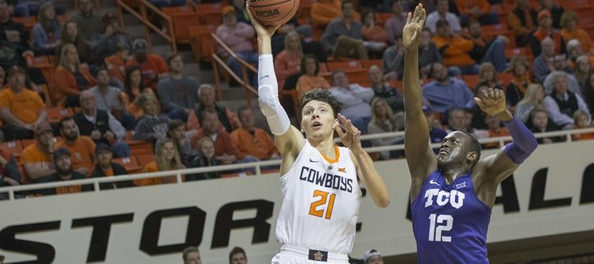 STILLWATER, Okla. —  TCU defeated Oklahoma State, 79-66, behind some stellar three-point shooting on Tuesday night at Gallagher-Iba Arena.
TCU (16-6, 4-5 Big 12), which had five players score in double digits, scored 42 points in the paint and shot 55.6 percent from the floor.
Jeffrey Carroll scored 18 points and had five rebounds, while Kendall Smith had 13 points and three assists for Oklahoma State (13-9, 3-6).
Lindy Water, III (Kiowa/Cherokee) added 10 points and two steals in 32 minutes of play.
The loss snapped Oklahoma State's 15-game home winning streak against unranked opponents and gave the Frogs their first win in Stillwater since 1925.
BIG STATE
Oklahoma State: For the fourth straight home game, the Cowboys fell behind by a wide margin in the second half, but this time, the inspirational comeback attempt fell short. After falling behind by as much as 16 midway through the second half, Cam McGriff's dunk with 6:38 left capped off a 14-4 run as OSU closed to within 63-57, but the Cowboys could get no closer.
UP NEXT
Oklahoma State: The Cowboys head out on the road to Allen Fieldhouse to take on No. 7 Kansas.