Led by junior Terae Brigg's (Crow Tribe) Season-High 18 Points the Wolf Pack earned a dominant 91-63 Mountain West win over visiting San José State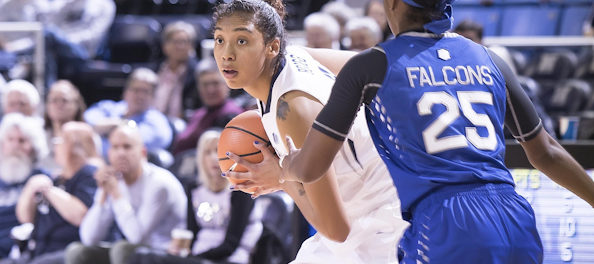 RENO, Nev. – Behind a complete team effort, the Nevada women's basketball team earned a dominant 91-63 Mountain West win over visiting San José State Wednesday night.
The Wolf Pack improved to 10-7 overall and evened its MW record at 3-3 with the victory. Nevada needs just one win with at least 13 games remaining to tie its win total from last season. Of the 10 players that saw time on the floor for Nevada, eight scored at least eight points and were led by junior Terae Briggs. Briggs (Crow Tribe) was perfect from the field, hitting 8-of-8 en route to posting a season-high 18 points. She fell one rebound shy of notching her second double-double.
One player who did manage a double-double was junior AJ Cephas, her second of the year, as she finished with 14 points and 12 rebounds, including eight on the offensive glass. The Wolf Pack was unstoppable on the offensive boards with a 23-6 advantage and overall led the rebounding game, 57-25. Senior Teige Zeller also was one rebound shy of a double-double as she scored 10 points, her sixth straight game in double figures.
Also registering points in double figures were sophomore Camariah King(13) and senior Halie Bergman (10). Three others could have easily reached double digits as well as senior T Moe and junior Jade Redmonnotched nine points and freshman Janelle Sumilong scored a season-high eight points. Nevada's 91 points are the second-most it has scored in a game this season and the 28-point margin of victory was its largest of the year.
The Wolf Pack led wire to wire and led by as many as 31 midway through the fourth quarter. Nevada started hot right from tipoff, stretching out an early 11-2 lead. The Spartans (6-12, 3-4 MW) showed some fight in the first quarter embarking on an 8-0 run to cut it to a one-point game. The Pack managed to stay ahead though and never faltered the lead. SJSU once again kept the game close and made it a one-point game with 59 seconds left in the first quarter but that is as close as it would get.
Nevada began to stretch the lead out in the second quarter, reaching its first double digit advantage at the 7:30 mark when Zeller connected on a 15-foot jumper. The Pack kept adding to its lead as the period went on, outscoring the Spartans 30-14 in that 10 minute span. With time expiring in the first half, King heaved up a shot from beyond the arc that swished in, sending Nevada into the locker room with a 21-point lead.
The Spartans mounted a bit of a comeback in the third, winning that quarter by a 22-17 margin after shooting 81.8 percent (9-of-11), including knocking down 3-of-4 from the three-point line. The Wolf Pack was able to put the game away for good though in the final quarter, outscoring the Spartans 22-10 to secure the 28-point victory.
Nevada is back on the road this weekend for a Saturday, Jan. 20 game at Boise State at 1 p.m. PT.