Lauren Schad (Cheyenne River Sioux) had 13 Kills and three blocks as USD Toreros Tame LMU Lions, 3-1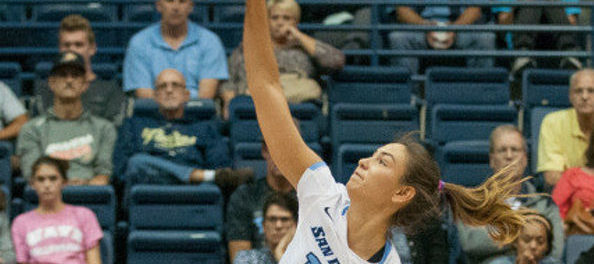 SAN DIEGO, Calif. – Behind 20 kills from senior opposite Lisa Kramer, the fifth-ranked University of San Diego women's volleyball team picked up a 3-1 win over Loyola Marymount University Thursday evening in a West Coast Conference match inside the friendly confines of the Jenny Craig Pavilion.
With the 25-19, 25-17, 21-25, 25-15 win, the Toreros improve to 18-2 overall remain perfect in WCC play at 9-0, and have now extended their winning streak to 17, matching the longest winning streak since the 2013 season. With the loss, the Lions fall to 14-7 overall, and move to 5-4 in the WCC.
Kramer led all players with her match-best 20 kills on 31 swings, to hit for a .516 clip, while also recording one block. Lauren Schad (Cheyenne River Sioux) was the only other Torero in double digit kills, as she had 13, while hitting .444, and she had three blocks. Kristen Gengenbacher recorded 30 assists, while Hunter Jennings anchored down the defense with 13 digs.
As a team, USD hit for a .331 clip, while holding LMU to a .165 attack percentage. San Diego out blocked the Lions 9.0-4.0, and USD recorded 55 kills, to LMU's 46. USD also recorded 46 digs, while LMU had 40.
For the Lions, both Savannah Thompson and Sarah Sponcil had 12 kills apiece, with Thompson hitting .097 and Sponcil hitting.176. Jessie Prichard led all players with 41 assists, while Kristen Castellanos led the team with 12 digs.