Lauren Schad (Cheyenne River Sioux) advances in NCAA Woman of the Year selection process; Winner will be announced October 22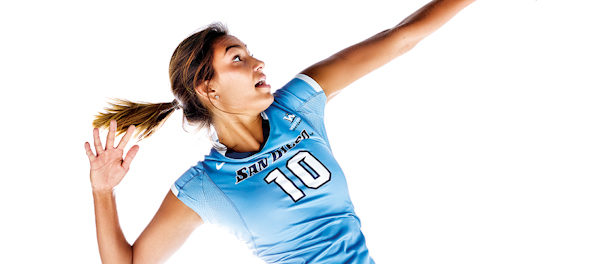 SAN DIEGO, Calif. – Former USD volleyball standout Lauren Schad (Cheyenne River Sioux Tribe) was nominated by the WCC and an independent selection committee for the NCAA Woman of the Year Award. Schad is one of 145 female student-athletes chosen from the initial pool of 543 nominees.
The nominees represent college athletes from 16 different sports spanning all three NCAA divisions. Of those recognized, 58 nominees competed in Division I, 34 in Division II and 53 in Division III.
For the first time, nominees competing in a sport not sponsored by their school's core conference were placed in a separate pool to be considered by a selection committee. Up to two independent nominees could be selected to move forward in the process with the conference nominees.
In early September, the Woman of the Year selection committee will name the Top 30 honorees, which include 10 women from each division. At the end of September, the selection committee will select and announce nine finalists, with three from each division. The NCAA Committee on Women's Athletics will select the 2017 NCAA Woman of the Year from those finalists.
The Top 30 honorees will be celebrated and the 2017 NCAA Woman of the Year will be named at the annual banquet Oct. 22 in Indianapolis.
The NCAA Woman of the Year program has recognized graduating female student-athletes for excellence in academics, athletics, community service and leadership since its inception in 1991.
As a senior, Schad was an AVCA All-American honorable mention selection and helped lead the Toreros to a 24-6 record. She was second on the team in kills with 273 (2.76 kps), while hitting for a .410 clip. She was also second on the team in blocks with 69, which moved herself into 10th place all-time at USD in career blocks.
Schad, a member of the Cheyenne River Sioux Tribe, aims to represent and inspire.  She has been just as busy and successful with her community service and leadership activities during her collegiate years.
Todd County  & Cheyenne River Volleyball Camps 2017: 
Putting on camps that allow kids on the reservation to be exposed to higher levels of volleyball as well as fine tune their skills with coaches with various playing experience.
Presenter at Dream the Impossible UCSD Conference 2017 
Gave speech on my personal journey and how I was recruited. Was a part of an hour long workshop consisting of how to get recruited for college athletics in the Native American Community.
Speech/Seminar at South Dakota Middle School (predominantly Native population)
Gave speech on the realities of college and collegiate athletics. Told personal story of how I got to where I was on a division I team and how my culture guided me there.
Partnerships with Native Americans (PWNA) Volunteer: April 2008-Present
Volunteer.  Worked in various areas to support non-profit agency serving Indian tribes in the plains and Southwest. Volunteered at nursing home during Easter meal and egg hunts on Pine Ridge, Animal Welfare projects, TOMS shoes distributions, photography and other office duties as needed. Volunteer as my schedule allows.  Also traveled throughout reservations in Arizona and did distributions for PWNA.  Gave a speech to the Tohono O'odham girls' volleyball team there.
USA Collegiate Team Camp: June 2016
Volunteer.  Worked as a coach representing the USA collegiate national team. Help engage participation and lead drills for girls in grades 3rd to 5th.
Todd County Volleyball Camp: June 2016
Volunteer/Coach.  Interacted with players from various reservations located in South Dakota to prepare them for upcoming season. Led drills, helped make daily activity schedule, spoke to players about personal experience in collegiate athletics, and gave demonstrations.
USA Coaches Clinic: February 2016
Volunteer. Demonstrator.  Active demonstrator of drills and games for collegiate/national coaches leading volleyball seminars.
Stanford Annual Powwow: May 2015
Volunteer. Worked facilities in helping maintain cleanliness throughout the camp and arena.
Feeding America: October 2014
Volunteer. Assisted with bagging cereal and raising awareness of urban hunger.
San Diego Girl Scouts: 2014
Volunteer. Facilitated activities and led group conversations with Girl Scouts of San Diego.