Lakota Nation Invitational Feature – Gabe Desrosiers Jr. epitomizes student / athlete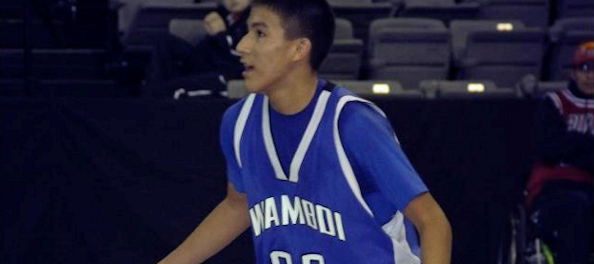 By Rich Winter
When the Tiospa Zina Wamdi take to the court at the Lakota Nation Invitational next week, chances are western South Dakota hoops fans are going to get their first look at senior guard Gabe Desrosiers Jr.
Take a good look, this one is something special.
The 5-foot-10 senior guard will likely not be the top scorer for the Wamdi, but chances are he'll find the right guy to get the ball to, and chances are he'll be playing some hard nose D, and handling the pressure that opposing teams try to throw at him.
Young fresh faces at Tiospa Zina Tribal School.
Pressure, that shouldn't be a problem for a young man that is a member of the National Honor Society and an Honors Student at Tiospa Zina. And even if you don't get a chance to see him, plenty of young people will as the anonymous person that send me info on Gabe told me, "He's a role model, on and off the court."
Formerly from the Sisseton Public School District, Desrosiers started playing ball at Tiospa Zina in 2012 but was injured in a home game, broke his leg and missed the rest of his sophomore season. He came back last year and had a solid season for the Wamdi.
Eight seniors dot the roster for Tiospa Zina, and the boys have some height this season.
1 1 Bruce Gunderson 6'3 F 12, 2 2 Dion Iyarpeya 5'10 G 9, 3 3 Gabe Desrosiers Jr 5'9 G 12, 4 4 Micah Shepherd 5'11 G 11, 10 10 Jarrod Appenay 5'9 G 11, 11 11 Austin Shepherd 5'9 G 12, 14 14 Inyanha Max 5'10 G 10, 20 20 Terrell Cook 5'6 G 11, 21 21 Austin LaPointe 5'10 G 12, 22 22 Dustin Labelle 5'11 F 12, 23 23 Alex Provost 5'11 F 12, 24 24 Jac k Crawford 6'0 G 11, 30 30 Kobe Carlson 6'2 F 12, 31 31 Jeffery Max Jr 6'5 C 12
Tiospa Zina opens play Wednesday at the Ice Arena in Rapid City vs. an always tough Pine Ridge squad. Should be a good one!