Kylie Jack (Penticton Indian Band) Earns Runner-Up Finish at Great Northwest Athletic Conference Golf Championships; SFU Golf Earns bid to First Ever NCAA Tournament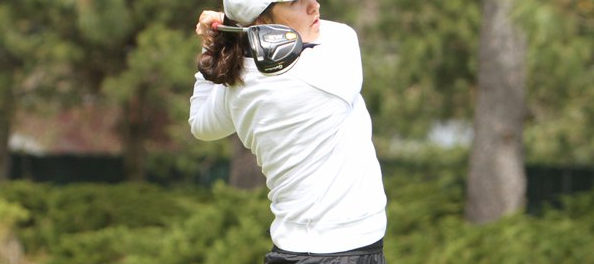 INDIANAPOLIS, Indiana – Simon Fraser University women's golf, which won the Great Northwest Athletic Conference championship for the second straight year, has been invited to the NCAA post-season tournament for the first time ever.
The women's golf team will compete in the NCAA West/South Central Super Regional in Wichita Falls, Texas, from May 8-10. Simon Fraser will be making its first NCAA postseason appearance in program history as the No. 12 seed. The top three teams at the regional tournament advance to the 2017 NCAA Division II Women's Golf Championship. It will be held May 17-20 at Findlay Country Club in Findlay, Ohio.
The second straight conference title was the crowning achievement for a team that has faced an inordinate amount of adversity this season. In January, long-time Simon Fraser head coach John Buchanan passed away after decades of service to not only the golf team, but the entire Simon Fraser athletics department.
"I'm very happy for the team," interim head coach Matt Steinbach said. "It's been a difficult season, losing legendary head coach John Buchanan in January, but the women rallied together through this challenging time. They have represented, themselves, Simon Fraser and Buchanan with grace and perseverance."
After setting the GNAC course record at 617 en route to last year's conference title, the Clan did one better this year, carding a 48-over-par 616 at the 5,914-yard course to win the GNAC Championships by a convincing 19-stroke margin. The Clan also claimed the top-two spots individually with Emily Leung winning her first collegiate title followed by Kylie Jack (Penticton Indian Band) in second place.
Leung shot a 5-over-par 147 and Jack shot an 11-over-par 153 for the top two spots. Each of Simon Fraser's top-four finishers were inside the top 10 overall with Jaya Rampuri and Belinda Lin tying for sixth place at 16-over-par 158. Defending GNAC champion Michelle Waters from SFU finished 18th.
The NCAA Division II Women's Golf Super Regional Competition will be conducted May 8-10. Each super regional will consist of both team and individual competition conducted concurrently with 12 teams and 6 individuals from non-qualifying teams at each site. All participants will compete through the 54 holes of competition.
Simon Fraser will be competing against the following 12 schools
1. Dallas Baptist University
2. California Baptist University
3. Tarleton State University
4. St. Mary's University (Texas)
5. Sonoma State University
6. St. Edwards University
7. West Texas A&M University
8. Academy of Art University
9. Midwestern State University
10. California State University, Chico
11. California State University, Monterey Bay
12. Simon Fraser University
The top three teams along with the top three individuals not with a team from each super regional will advance to the championships.