Kansas Jayhawk's Avery Hale (MHA Nation) finishes 2nd Overall at season-opening Bob Timmons Dual Classic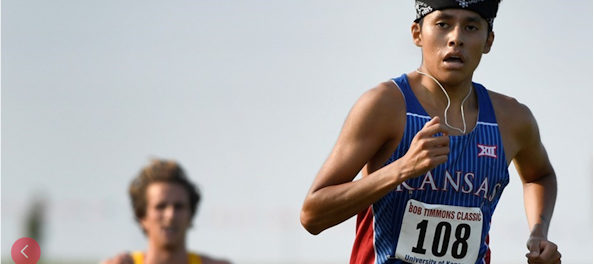 LAWRENCE, Kan. – A beautiful morning at Rim Rock Farm turned into the perfect day for Kansas cross country in its season-opening Bob Timmons Dual Classic meet. Facing off against the likes of UMKC and Oral Roberts, the Jayhawk men's and women's teams took a clean sweep in the dual-scoring format.
The men's 6K race started things off Saturday morning, and the Jayhawks were ready to go when the starting gun fired. A tight first half of the race saw a number of KU runners leading the pack and things didn't change as the competitors moved through the course and started to spread out. Senior Ben Burchstead was the top collegiate finisher in the race with a time of 19:10.2, and sophomore Avery Hale (MHA Nation) came in right behind the senior with a time of 19:12.5. The Jayhawks took four of the top-five scoring spots overall, with senior Carson Vickroy (19:17.8) finishing third for Kansas, junior Jack McDonald (19:20.9) coming in fourth for the team, and redshirt freshman George Letner(19:29.7) taking the last scoring spot.
"Walking away with a win was the focus and they did a good job of that," assistant coach Michael Whittlesey said. "I wanted our guys to be packed up better, there were times where our front two-to-five were close together, but never really worked together after the first male and that was kind of our goal. Looking at our spread, it was a good spread time-wise, but I think we could have ran even faster, but overall I think they did a really nice job."