Jones: Haskell Indians Show Resilience in Tulsa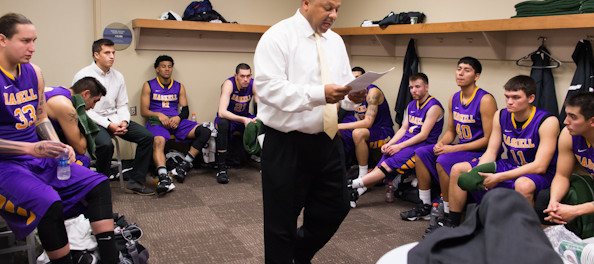 TULSA, OK- The Haskell Indian Nations University Men's Basketball team traveled down south to 11th & Harvard in T-Town on Saturday. The Indians fell to Tulsa 87-62, but put up a fight with the hand they were dealt.
New Athletic Director Todd Davis had just hired new Haskell Men's Basketball Head Coach Matthew "Cougar" Downing Jr. Now when I say Davis had just been hired, I literally mean he had just been hired.
The first year Indians Head Coach was hired on Tuesday of last week, while the season was already in progress. Davis was forced to coach the opening two matchups because the hiring of Downing was not complete due to federal regulations.
So here's the situation Downing and his team was dealt…
Downing had just one week of practice under his belt, as well as one game with the team he had just been hired on to coach. The Indians would be traveling at 8:30am on Saturday morning for a four hour road trip to Tulsa, and after the game would be traveling the same distance back that very same day.
In Tulsa, the Fighting Indians would be battling a Tulsa Golden Hurricanes squad that not only was a Division I opponent, but a good one at that. The Golden Hurricane were picked to finish fourth in the American Athletic Conference preseason, according to the media, and also were seen as a bubble team to make the NCAA Division I tournament.
Tulsa returned nine seniors to this year's squad. The senior class had be apart of a visit to the NIT last season, and a trip to the NCAA Tournament in the 2013-14 season.
With all of these circumstances in front of them, the Indians did not back down and put up a fight against Tulsa. Statistically, Haskell went pound-for-pound with the Golden Hurricane, trailing by just 14 at halftime.
As a team, Tulsa shot 39% from field goal range, while Haskell was right behind them at 37%. Despite the clear height advantage for Tulsa, Haskell matched them in rebounding as a team with 43 each. Even more impressive was the 3PT shooting comparison. Haskell shot a higher percentage at 33%, compared to the 31% of Tulsa.
When asked about his team's performance on Saturday, Downing Jr. said, "I was proud of our guys. They stepped up to the challenge and played their hearts out. If we don't give up second possessions, we'll be in every game."
Leading the way scoring for Haskell was Ralston Moore with 14 points and after the game he said, "I felt good. We came out here and competed. Tulsa is a D1 school and we just gave it our all. It feels nice to play in big arenas like this (Reynolds Center)."
Behind Moore in scoring was Wilber Everett with 12 points. After the game Everett said, "I felt like we played hard. It was nice to be up here on this stage, and I appreciate Tulsa having us up here."
Next Up
After a strong showing in Tulsa, Haskell will take on Midland in Fremont, Nebraska on Tuesday, before two games in North Newton, Kansas against McPherson and Bethel.

The Indians return home to Lawrence for two straight games against local area schools. Haskell will take on Ottawa University on the 16th, followed by a matchup on the 24th against Baldwin City's own Baker University. Haskell remains 0-4 on the season.