Jackson Thomas (Navajo) Leads Bacone College to Sooner Athletic College Cross Country Men's Conference Title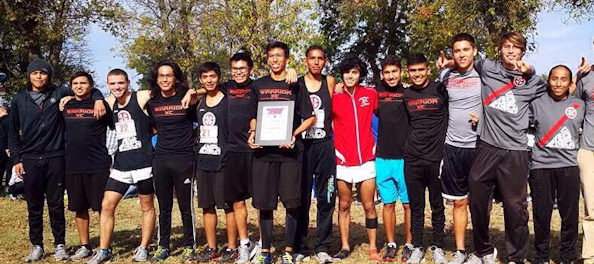 (Shawnee, Oklahoma) – Bacone College won the Sooner Athletic Conference men's cross country championship denying three-time champion Oklahoma City University an opportunity for a fourth consecutive title. The eight-kilometer race was again held at the Gordon Cooper Technology Center in Shawnee, Okla.
Bacone's Jackson Thomas (Navajo) and Binahnii Curley (Navajo) finished 1-2 in the 74-runner field. Thomas's winning time in the eight-kilometer race was 24:45, 33 seconds ahead of his teammate Curley who turned in a time of 25:18. The title was the Warriors first-ever SAC conference championship since joining the league in 2015 finishing with 42 points just ahead of Oklahoma City's 44.
OCU had the 3-4 finishers with Max McNeil clocking a 25:25 and Michael Roguski with a 25:39.
Wayland Baptist finished third with 65 points, John Brown was fourth with 121. The remainder of the field was Southwestern Assemblies of God in fifth with 142, Texas Wesleyan in sixth at 147, St. Gregory's in seventh at 169, and Science & Arts in eighth with 237 points.
The top 15 individual finishers were certified as all-conference. Complete Results
1. Jackson Thomas, Bacone                                        24:45.67
2. Binahnni Curley, Bacone                                          25:18.90
3. Max McNeill, Oklahoma City                                    25:25.29
4. Michal Roguski, Oklahoma City                               25:29.82
5. Eric Villagrana, Wayland Baptist                              25:31.18
6. Ma Wahpepah-Harris, Oklahoma City                     25:40.54
7. Raul Almaraz, Wayland Baptist                               25:49.60
8. Eduardo Roa, Bacone                                             25:55.16
9. Shawvan Levi, Bacone                                            26:05.18
10. Josh Uzelac, John Brown                                      26:08.16
11. Gerardo Nava, SAGU                                            26:11.78
12. Jason Wayland Baptist                                          26:13.86
13. Robert Torres, St. Gregory's                                  26:24.16
14. Alan Ramirez, Alan Texas Wesleyan                    26:27.82
15 Oaklin Davis, Oklahoma City                                 26:29.52