Iroquois Nationals fall to Canada in Semi-Finals; Will play Australia in the Bronze Medal game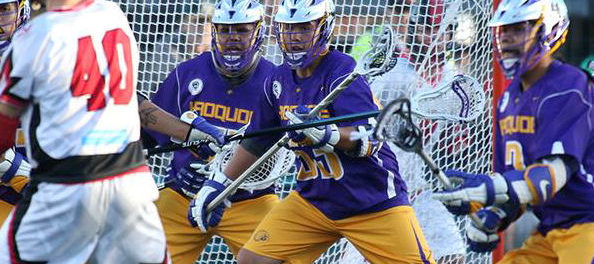 By Chris Vale
The Iroquois Nationals had a great first three quarters of play in Thursdays semi final match up with team Canada.
With the first quarter only seeing a goal a piece for both teams Nat's goal coming from Austin Staats who tied it up at one.
In the second Jeff Teat of Canada who is Canada's best goal scorer game out with two straight goals plus Canada had another to make it 4-1. Then Sekawnee Baker, Staats and Skye Sunday all scored one while Tehoka Nanticoke scored the firsts of his highlight reel night.  Now a 5-4 game going into the third Doug Jamieson who was 8-24 of face offs scored his first and only goal of the game. Then Tehoka netted his third and final goal of the contest the rest of the way was pretty much Canada.
The Nationals tried hard but Canada was just to strong facing off and offensively when they caught fire going on a seven goal run before the Nat's Devon Buckshot fired in a goal and then after Canada scored yet again Albany commit Mitch Laffin scored to put his team only three goals back of Canada. That is where the game ended with Canada moving onto the championship to face off vs. team USA.
One thing to take from this game was all the good talent coming from the Iroquois Nationals program.
Face off man Doug Jamieson is suppose to be entering his name into the NLL draft he plays goalie is box lacrosse for Six Nations Arrows. Yes the Iroquois defense didn't have much depth but had guys like Tyson Bomberry who was the leader of the group a solid defensive player who should have a big impact at Syracuse next year. Colyn Lyons was a taller pole but had solid position along with Chaunce Hill and Bomberry all be in the running for the 2018 men's National team. Jerry Staats another Six Nations Arrow is very athletic with a great stick and should be playing division one down the line.
On Offense Tehoka and Staats were the top guns along with Mathew Bennett but from the midfield Baker Skkyler Thomas and Sunday all complemented each other at the midfield position.
All in all the Nationals showed they can run with the best in the world from only being able to pick from a much smaller population of players compared to Canada and USA and still compete at the highest level.