Haskell Indian Nations University Women's Volleyball Battle to (3-2) Win over York College at Home Tuesday Evening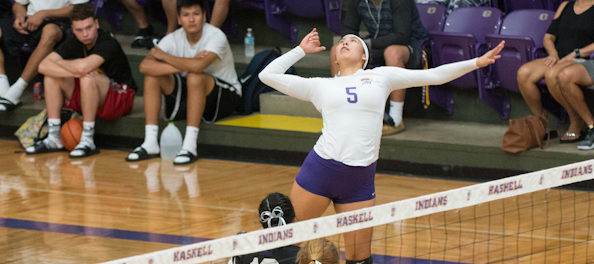 (Lawrence, Kansas) – The Haskell Indian Nations University women's volleyball team improved to (10-14) on the season after battling a tough York College Panther team to a (3-2) win in front of the home crowd Tuesday evening at Tony coffin Sports Complex.
Led by the teams trio of kill leaders this season, Sophomore Cailey Lujan had 17 kills and 16 Digs, followed by Alliyah Richards who had 16 Kills. Not to far behind was Krista Costa who had 12 kills but had a team-high 30 digs for the Indians.
Senior setter Randi Romero dished about 41 assists for Haskell and reserver setter Shayla Yazzie added 19 assists, 22 digs and also had 10 Kills on the night as well.
The Lady Indians will now hit the road to Ozarks, Missouri where they will compete in the College of the Ozarks Tournament on Friday and Saturday October 20th and 21st.