Hailey Lunderman (Choctaw/Lakota) and No. 24 Ole Miss softball will play eight games for Fall Schedule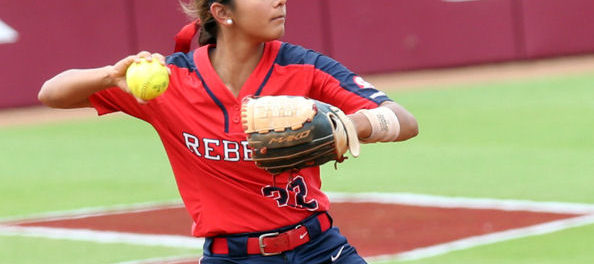 OXFORD, Miss. – No. 24 Ole Miss softball will play eight games during its fall season, six of which are scheduled to be at home in preparation for the 2017 season.
The fall slate gets underway in early October and runs through the beginning of November. The Rebels kick it off Oct. 2 with the Fall Invitational, which will feature three games total. Ole Miss will play Meridian Community College and Delta State at 1:30 p.m. and 4 p.m., respectively.
The next weekend the Rebels will take on a familiar opponent in Southern Miss, Oct. 8, in Brandon, Mississippi at Shiloh Park at 1 p.m. Oct. 11 features the Rebels against Itawamba Community College at 5 p.m. in Oxford, before the squad takes a 10-day break for Blue Mountain College on Oct. 21 at 4 p.m.
Contests with Gulf Coast Community College (Oct. 25 – 5 p.m.) and Mississippi Valley State (Nov. 2 – 5 p.m.) round out the slate of fall games in Oxford, before the exhibition schedule closes Nov. 4 at Memphis (5 p.m.).
The Rebels head into the fall with a host of players returning from last season's squad including Hailey Lunderman (MBCI/Lakota) who had one of the best freshman seasons in the nation, and also welcome a large group of newcomers to the team. Ole Miss made history advancing to the NCAA Tournament for the first time in school history amassing a school-record 41 wins, and finished the season ranked No. 24 in the final ESPN.com/USA Softball Collegiate Top 25.
| | | | |
| --- | --- | --- | --- |
| Date | Opponent | Location | Time |
| Oct. 2 | Meridian CC | Oxford | 1:30 p.m. |
| Oct. 2 | Delta State | Oxford | 4 p.m. |
| Oct. 8 | Southern Miss | Brandon, Mississippi | 1 p.m. |
| Oct. 11 | Itawamba CC | Oxford | 5 p.m. |
| Oct. 21 | Blue Mountain College | Oxford | 4 p.m. |
| Oct. 25 | Gulf Coast CC | Oxford | 5 p.m. |
| Nov. 2 | Mississippi Valley State | Oxford | 5 p.m. |
| Nov. 4 | Memphis | Memphis, Tennessee | 5 p.m. |