Green Bay Starts Hot, But No. 3 UConn Too Strong in End; Tesha Buck (Sioux) had 10 Points for the Phoenix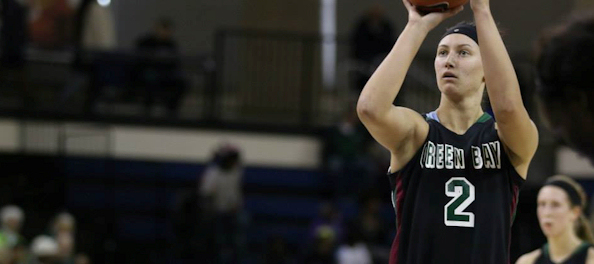 ESTERO, Fla. (GreenBayPhoenix.com) – After seeing the score tied late in the first half, No. 3 UConn would pull away from the Green Bay women's basketball team in route to an 89-53 victory on Sunday night at Germain Arena in the Gulf Coast Showcase Championship game.
The Phoenix (5-2) entered the game in hopes of shocking the college basketball world by handing UConn (5-1) just its second loss in its last 52 games overall. Green Bay did jump out to a six-point lead in the game, thanks to a couple of three-pointers from Tesha Buck (Mdewakanton Sioux) and Mehryn Kraker.
The score was tied at 26-26 with just over four minutes remaining in the half, but that's when the defending national champions flexed their muscle and pulled away from the Phoenix. UConn would go on a 13-2 run to close out the half, and would carry that momentum into the second half by going on a 14-0 run following a basket by Kaili Lukan.
Green Bay was never able to get back into the game following that stretch, which snapped its recent four-game winning streak against well-known competition. UConn outrebounded Green Bay by a final total of 42-26, taking away any second chance opportunities and using its strong defensive prowess to get out on the fast break.
Kraker led Green Bay with 12 points, while Buck also finished in double figures with 10. Megan Lukan served as the team's workhorse at the guard position, scoring six points, grabbing six rebounds and finishing with a game-high seven assists.
Despite falling short in a bid for the tournament championship, Green Bay registered victories over ACC-foe Georgia Tech and Pac-12 member Arizona State. Add that to a pair of victories over Big Ten-member Purdue and Big East-rival Marquette and the start to the season its quite impressive.
Kraker and Megan Lukan were named to the Gulf Coast Showcase All-Tournament Team, after leading their team to a second-place finish and one of the premiere Thanksgiving tournaments.
Green Bay will now return home for just its second game at the Kress Center this season. The Phoenix will host Western Michigan on Saturday, Dec. 6, at 1 p.m.