Georgia Swarm announced they have re-signed goalie Warren Hill (Six Nations Mohawk) to a one-year deal on Wednesday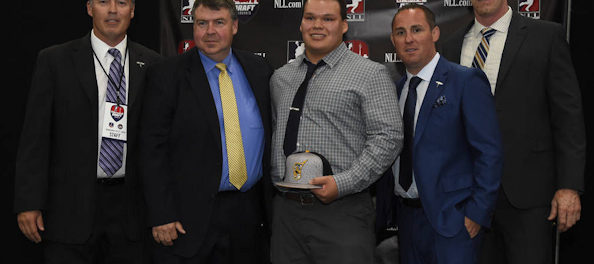 DULUTH —The Georgia Swarm announced Wednesday they have signed a pair of goaltenders. Warren Hill (Six Nations Mohawk) is returning on a one-year deal and the team inked free agent Kevin Orleman to a two-year deal.
"We are very excited to have these two young goalies sign with the Swarm for the 2018 season," Swarm owner and general manager John Arlotta said. "They were both highly regarded second round picks in last year's draft. It's certainly gratifying to see their desire to play for the Swarm, and the competition for roster spots will certainly make the goalies and the team better."
Hill was selected No. 20 overall (2nd round) in the 2016 NLL Draft, and the Syracuse alum spent the 2017 season on the Swarm's practice squad. Viewed as a potential impact player by lacrosse experts, Hill has proven himself in field and box lacrosse. The Six Nations, ON native played in 16 games for Syracuse University and finished with a career 10.25 GAA.
In box lacrosse, Hill has plenty of experience with the Six Nations teams across the Jr. and Sr. leagues. In over 4,074 min. of play during with the organization, Hill has an impressive career 6.94 GAA. The 5-foot-11, 200-pound netminder helped the Chiefs win a Mann Cup in the summer of 2016.
Hill and Orleman both played in the Arena Lacrosse League in 2017, Hill for the Six Nations Snipers and Orleman for the Paris RiverWolves. Hill ended the season with an 11.95 GAA and a .760 SV% over 401:49 min., and Orleman finished the regular season with a 12.74 GAA and a .773 SV% over 296:47 min.