Gabby Barker (Shoshone/Paiute) and Texas Tech to host 18-team NCAA Lubbock Regional on May 8-10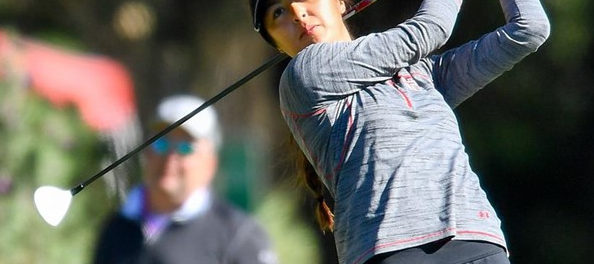 LUBBOCK, Texas – For the seventh time over the past eight years, the Texas Tech women's golf team is heading to the postseason. This time, though, the Lady Raiders will be doing so right at home.
Tech was selected as the No. 9 seed in the NCAA Lubbock Regional on Thursday morning during the NCAA Selection Show on the Golf Channel. The Lady Raiders will welcome 17 other schools and six individuals during the three-day tournament that will take place May 8-10 at The Rawls Course.
"We're excited to once again be in a Regional," Tech head coach JoJo Robertson said. "This will be a challenging field that includes several teams we are familiar with this season. We're looking forward to hosting and I know our team has been looking forward to playing at The Rawls Course again."
This will be the 17th all-time NCAA Regional appearance for the Lady Raiders, who will be hosting the regional round for the first time since 2005. The Rawls Course, which was named the No. 4 campus course in the country this past fall, also hosted the 2015 NCAA Men's Golf Regional.
UCLA headlines the 18-team field as the top seed followed by Arizona State, Furman, Kent State, Texas, Oklahoma, BYU and San Diego State. Fellow Big 12 foes TCU (No. 10 seed) and Iowa State (No. 13) will also head to West Texas as eight of nine conference schools earned an NCAA selection with five making the trip to Lubbock.
Of the 18-team field, only Texas and Oregon played at The Rawls Course this year as the remaining 15 teams did not participate in Tech's season-opening Red Raider Invitational. The Longhorns traveled to Lubbock on March 5 earlier this spring for a head-to-head dual match where Tech topped its in-state rival by six strokes.  Oregon, meanwhile, finished third at the Red Raider Invitational.
Robertson boasts an experience lineup when it comes to NCAA play as Gabby Barker (Shoshone/Paiute) and Lauren Mason will be playing in their third Regional while Mami Yamamoto was part of Tech's 2016 lineup at Stanford. Freshman Sofia Garcia, who earned All-Tournament honors just a week ago at the Big 12 Championships, will be making her first career postseason appearance as will sophomore Cara Barker.
Tech closed the Big 12 Championships in third place, matching its highest finish in program history. The Lady Raiders will need to finish among the top six schools to advance past the NCAA Lubbock Regional for the third time in program history and the second time in a three-year span.
Admission is free for all three days of the NCAA Lubbock Regional.